ŃŚÁ ŪŗÁ'ŗŪŤˇ
ē 29 November 2018 - Best XP-Pen Graphic Drawing Tablet Christmas Version Gift For Digital Painters & Artists 2018
Christmas is just around the corner, and itís not too late to spice up your device with some Christmas cheer. Gift giving will never be tough as long as tablets are around. Whether the person on your list is a digital artist or just someone who likes to Draw , a tablet offers something for this people .
Unleash your creative side with these stunning tablets. Combining the flexibility of freehand drawing and precision of digital design, these amazing tools are only limited by your imagination. So if you are looking for a Christmas gift or something , you are sure to find something that fits your needs and budget.
This is the season to paint with pixelsÖ here are some nifty gift ideas for the tablet-totiní creative type in your life (and maybe that someone is you!) With a specially designed Christmas and New Year gift pack, the easy-to-carry Artist 12 / DECO 02 /Star G640S makes an ideal gift choice for your beloved ones. The XP-Pen drawing tablet / monitor will mimicking a comfortable sketching experience on paper.
what is the difference of Christmas version and the normal deal product ?
The only difference of the Christmas version and the normal artist 12 is that the Christmas version has more includes like the protective case and key ring.
One of the leading rivals to the famed and revered Wacom tablets is XP-Pen. Who the heck is XP-Pen? XP-Pen is a company born in the great tech-giant country, China. XP-Penís office is in ShenZhen, China (near Hong Kong). Their offical website is https://www.xp-pen.com .The XP-Pen Graphics Tablets is the perfect option for an affordable graphics tablet.
XP-Penís Star /DECO /Artist series tablets launched them as actual competitors to Wacom, yet at a quarter of the cost. You canít argue with that.
Iíve owned and used Wacomís Intuos 3 medium, the wired and wireless versions of the Intuos 4 medium, and Wacomís Bamboo CTH models. Each of these confirmed Wacomís excellence, both with hardware and drivers. Though Wacom sells the most tablets, theyíre not the only company that sells excellent tablets.
If youíre in the category thatís looking to purchase a Wacom Bamboo tablet - donít! Thereís no reason for the Bamboo to even exist when thereís a far superior model for a comparable price. If youíre thinking about buying the Bamboo - buy the XP-Pen instead.

XP-Pen Artist 12 Tablet with screen Christmas Gift Pack
The XP-Pen Artist 12 is ergonomically designed with adjustable stand and anti-slip rubber cover, you can adjust the screen according to your needs and comfort no matter youíre standing or sitting, the XP-Pen Artist 12 lets you draw your art without any kind of discomfort. The 11.6-inch screen on the front produces good brightness and contrast with real colors so that you can draw your art even more accurately. Moreover, the 1920 x 1080 pixels of resolution with 16.7M color support is enough sharp to meet the requirements of artists. With pressure sensitivity of 8192 levels, you can draw a variety of lines. For instance, if you apply more pressure then it will render a thicker line. This is really a good feature especially in a tablet for artists.
The XP-Pen Artist 12 is compatible with all versions of Windows and Mac operating system and works with most of the software like Adobe Photoshop, Illustrator 3D Max, AutoDesk Sketchbook, Corel Painter, Autodesk MAYA, ZBrush and many more. Hence, thereís no need to worry about compatibility. In the package, along with the device, you will get a screen protector, 1 pen, 8 replacement nibs, 1 USB cable and other necessary cables. All in all, the XP-Pen Artist 12 is a complete package of features and is also one of the best tablets for artists, designers, architects, and students who are expecting a good value for their money.
Hardware Specifications of XP-Pen Artist 12
Display Area: 11.6-inch IPS Display
Pressure Sensitivity: 8192 levels
Connection: USB-C
Resolution: 1920 x 1080 Full HD Resolution
Response Time: 14ms
Support Color: 16.7M(RGB 6-bit data + HiFRC data)
Colors: 72% NTSC Color Gamut
Visual Angle: 178į
Report Rate: 266 PPS
Keys: 6 Shortcut Keys and 1 touch bar

Where to get One: https://www.storexppen.com/goods/activity/id/68.html
Artist 12 Customer reviews :
I have a tendency to ramble, so bear with me.
I'm already fairly familiar with XP-Pen products (I have the Artist 16 Pro, and will be trying out the Decon 02 soon so I can better teach my nephew to use it). I dare say, I prefer this over my Artist 16!
ēThe smaller size makes it much easier for me to lug around, it takes up less storage space (I have no desk to leave the 16 on).
ē It has a great look, feel and weight to it; for the price, I'm blown away. It looks more costly than my 16!
ē Screen is clear and sharp. The 16 has the same amount if pixels spread out on a larger space so it looked a tiny but fuzzy.
ēI love that the cords all plug together vs three separate cords like the 16; that drove me nuts.
ē The track pad is amazing. I honestly didn't think it'd speed up my workflow nearly as much as it does.
ē The pen nibs seem sturdier than the 16s pen; I see absolutely no sign of wear after using it all day, which I did on the 16. The nibs also don't wobble which is great.
ē The matte surface shows no sign of scratching so far, but we shall see in a few months. My 16 has a lot in the center, though they aren't visible while the screen is on.
Cons
My only con's so far, are with the darn pen.
ē there's only one button, and it's recessed into the pen; you can't feel where it is, you have to pause to find it.
And to note, there is no stand for this; that is sold separately.
XP-Pen DECO 02 Christmas Gift Pack
Well, if youíre just starting with digital painting and looking for a drawing tablet to hone your drawing skills, then the XP-Pen Deco 02 is probably the best in the segment in terms of features and pressure sensitivity. Yes, the XP-Pen Deco 01 can detect pressure sensitivity up to 8192 levels which is indeed a very good feature for users to draw varying width of lines and enhance their creativity. Moreover, the active area of 10 x 6.25 inch offer enough space to draw on which lights up at night so that you can draw conveniently even in dark conditions. The Deco 02ís thickness is only 8 mm which also doesnít weigh much making it easy for you to throw it in your backpack.
The XP-Pen Deco 02 is designed with both right and left-hand users in mind, there are basically 6 express keys and 1 touch ring on the left which help you maximize your workflow and delivering the most ergonomic and convenient platform to draw on in its segment. The pen that comes with the package is battery-free so you donít need to charge it as there is no way of running out of battery. However, the tablet needs to be connected to your PC or laptop via USB Type-C cable. Moreover, the quick toggle button onboard lets you switch between pen and eraser instantly. Overall, the XP-Pen Deco 02 is one of the best value for money drawing tablets offering a package of features at an extremely affordable price of $90 which even slightly expensive Wacom Intuos misses out.
Hardware Specifications of XP-Pen Deco 02 Tablet
Active Area: 10 x 5.63 inch
Pressure Sensitivity: 8192 levels
Resolution: 5080 LPI
Report Rate: 266 RPS
Connectivity: USB Type-C
Pen Battery-Free Pen with 8 Nibs
the stylus have digital eraser
Newer drivers for the Deco 02, compatible with Windows 7/8/10 and OSX 10.10
Where to get One: https://www.storexppen.com/goods/activity/id/67.html
DECO 02 Customer reviews :
Deco 02 by Xp-pen a great wacom alternative.
Where can I start? first off, I like this one, which is going to be my new tablet for my day job. The box looks nice and have that look that you wouldn't' expect to find on a graphic tablet made in China. The box is sturdy, firm and feels like it can withstand almost everything and very well designed by the way. what's on the box is what really matters.
A Deco 02 tablet that comes with a ring or roller wheel to set with the last shortcut key and has a lot of built-in functions. This roller wheel will save a lot of time for you because when we artist tend to calibrate sizes of the brush or doing the zoom in and out, this roller wheel comes very handy ( way better than shortcut keys). Also it comes with a sort of lid or cover for the ring made out of rubber, which is nice to the tact and easy to handle. The pen is a passive pen that won't need any charge and very ergonomic and light ; even this time xp pen put an eraser on the pen...that is cool. I remember that the old wacoms had it, not anymore though on the more advanced models. This eraser will save you time since you don't have to use the switch buttoms on the pen to change from brush to eraser. The pen comes with a practical pen holder, very hard and durable, it will old the pen on your desk, also carries the pen nibs and the pen. I wish my artist 15.6 should have had one of those.
When it comes to performance, this tablet is way better than my old wacom. It can register 8,192 levels of pressure sensitivity that helps a lot when you are doing digital sketching, painting and inking on many programs, I have tested it with Photoshop, Krita 4.0 and Sketchbook Pro. It works like a charm with all the pressure needed in all of them.
The only cons is with Krita, that sometimes start behaving erratic but that is not only with xp-pen, also has been reported with the latest wacom's. I think this tablet is great for everyone who is on graphics with a budget and also for professionals digital artists like me that are looking for something smooth and precise that will perform great and would not put you on a serious debt. As an additional, the pressure sensitivity and the tablet drivers are so easy to calibrate that it works right out of the box on my 12gb old Imac 2011 with OSX High Sierra... Yep this tablet will do its duty very well.
XP-Pen Star G640S Christmas Gift Pack
XP-Pen Star G640S drawing tablet comes with 6 programmable Express Keys to create shortcuts, easy to setup; Compatible with Windows 7/8/8.1/10 and Mac OS X 10.8.0/later versions.
8192 Levels of Pressure Sensitivity: Resolution 5080 LPI, Report Rate 266RPS.
The graphic tablet can compatible with most currently available drawing software: Adobe Photoshop, Adobe Illustrator, Adobe Fireworks, Lightroom and so on. One year warranty.

A mouse alternative, Precise pen control Can be used for osu! Digital art creation, annotating in PowerPoint slides . game, document signing, causal art work editing, inking, sculpturing, and more. It's good choice of Christmas Gift for children and adults.
Active Area: 6 x 3.75 inch, Easily fits into a laptop case pocket or in a briefcase, portable carrying on the go or on a trip.Signature Pad: widely applied in banking and finance, retail, telecommunications, healthcare,government, tourism .
Where to get One: https://www.storexppen.com/goods/activity/id/66.html
Star G640S Customer reviews :
This is a great graphics tablet for this price range! Here's why:
*It's bigger than it looks, but small enough to not take up a lot of desk space if your space is limited. I was able to draw using this tablet with no issue, the surface area is large enough to capture larger strokes of the brush.
*The pen pressure is sensitive enough to work well with watercolor and paintbrush tools on graphics programs so that you can still achieve a gradient or tapered brush look. The pressure is also adjustable so that you can adjust for heavy-handedness if need be.
*Express buttons -- I'm used to the express buttons from my personal Wacom tablet(this is a gift for someone) and it's nice to see them in this tablet, they're great to create shortcuts when working.
*It takes very little time to get used to the way the pen works.
*Great starter tablet or tablet for casual users who don't want ti spend 100+ on a tablet they aren't using everyday.
**CAUTION** the pen can lose pressure because it registers your hand if you are someone who touches the side of your hand to the tablet when writing or drawing(like I do), I recommend adjusting your hand position when using this tablet or getting a half glove

More notice
The line of XP-Pen tablets sold at offical store seems focused on clients from the West, specifically even the U.S. The box and instructions come labeled in English, they ship to the U.S. for a very reasonable shipping cost. And a minor detail, they shipping worldwide , in australia ,USA,Europe, they have office and warehouse, the product ship from local warehouse , then you can get it within one week .
Going above and beyond, XP-Pen also responds personally to questions, usually within one or two days at most, and they respond in near perfect English.
NOTES & SUGGESTIONS Pressure sensitivity problems? I found that if I started the graphics program (ie, Manga Studio) before I plugged in the tablet, the pressure sensitivity didnít work. To fix this, I simply had to close down the program, plug in the graphics tablet, wait a short moment, then restart the program Ė always plug in the tablet before starting your drawing program.
Driver issues or tablet glitches? First, uninstall All other tablet drivers if you have any installed. Second, make sure you download the most recent and appropriate driver. Third, restart your computer. Fourth, plug in your tablet before you start your graphics program.
Comments (0) :: Post A Comment! :: Permanent Link

ē 5 November 2018 - XP-Pen DECO 03 digital drawing pad Review : A good upgrade for old Wacom Bamboo
My Wacom Bamboo CTL470 captureís port broke, and I wanted to invest in another drawing tablet. This is my review of the XP-Pen Deco 03!
Wacom is the industry standard, but I think the competition is getting better, which bodes well for us artists! I did a bit of research and decided that this tablet seemed like a great deal, considering its prices and features.
My old Wacom Bamboo Capture was well loved, but did get laggy at the very end. It was also a bit small. This tablet is bigger and better, and I am quite enjoying it so far.
The XP-Pen Deco 03 Is what I would call an indirect graphics drawing tablet or digital drawing pad . That is a tablet that is attached to a computer monitor where you draw on the surface of the tablet and the the image appears on the monitor.
It was quickly delivered and I opened the packaging to find the tablet and accessories contained in a sturdy flip top box. On inspection I found that the box was quite substantial and really secure unlike like some other tablet packaging I have experienced in the past.
Common Features Of Drawing Tabletís Explained
Are you completely new to the world of digital art?
To find the right tablet for your needs, it is important to understand the different features.
Below you will find a quick definition of the standard features on a digital drawing pad.
Pen / Stylus
A stylus pen is a pen shaped device that is used when drawing on your tablet. A digital pen for drawing often includes function keys, nibs, and erasers.
Active Area
The active drawing area is the area on the tablet that you can draw on.
Resolution
Tablet resolution, measured in LPI (Lines Per Inch), tells you how many digital lines fit into one inch of the tabletís physical screen. The higher the LPI, the greater detail and sharpness of your image.
Pen Pressure
Pen pressure is how sensitive a pen is to the pressure applied to the active area. It allows you to draw subtle variations in lightness or darkness.
Nibs & Erasers
Nibs are the part of a digital pen that touch the surface of your art tablet. You have the main type of nib, which tells the tablet you are drawing a mark, and an eraser nib, which informs your tablet to erase whatever you are touching.
Pen Response Time
Pen response time, also known as latency, is the time it takes between moving your pen on the surface of Tablet , and when the stroke is updated to the tip position on the surface of Tablet .

Express Keys
Express keys, also called Hotkeys, are built in buttons that allow you to set up short cuts for common key commands. Often these are customizable, however, sometimes they are not. Be sure to check.
XP-Pen Deco 03 Digital Drawing Tablet Ė What do You Get in the Box?
The first thing that struck me was how stylish and sleek this tablet was. It certainly looked the business as I was unwrapping it.
It had a nice feel, fairly light and felt strong enough to take the usual knocks and bangs when being moved aboutÖso far so good.
I was pleasantly surprised at the contents in the box:
XP-Pen Deco 03 Digital Drawing Tablet
Passive Pen Stylus
Pen Stand
8 spare Graphics Pen Stylus Nibs
USB-C to USB Cable Approximately 1.5 meters in length
Comprehensive Manual
Anti Fouling Graphics Tablet Glove
The Deco 03 has a classy matt black finish. the matt black really does look cool!It is ultra thin at a mere 8mm. How do they pack everything into such a small space ?
I know that everyone is trying to make some electrical items such as laptops and smartphones as thin as possible but for me that often means Ďflimsyí. Not so with this tablet as it is obviously well bonded and not a hint of flexing. I think if I dropped this on a solid floor it wouldnít hurt it Ė but I wasnít going to try that out!
Drawing Surface Texture
The feel of how the pen moves over the surface of a tablet is important to many artists. Some tablets feel silky smooth when drawing, others feel more like the texture of paper. It all comes down to personal choice.
Specs & Overview
Pen: passive and wireless (doesnít require batteries)
Active Area: 10Ē x 5.62Ē
Resolution: 5080 LPI
Express Keys: 6 customizable one and this nice circular dial
Report Rate: 266 rps
Pressure Sensitivity: 8192
Interface Support: Type C (nice! Plugs into Type C on tablet, but full-sized USB on the computer side)
Compatibility: Windows 7/8/10 & Mac OS 10.8 and above Both wired + wireless interface.
Full specifications + compatibility information
Overview
+ Clean, thin, and sleek design.
+ Passive pen is accurate, responsive, and a good size and weight.
+ The dial is a great feature
The surface seems like itís a bit easy to scratch, but not really much more than the old Wacom bamboo.
Using Mac OS drivers, does not have pressure sensitivity in Autodesk Sketchbook. It does for Krita, PS, and a lot of others.
Overall, great bang for your buck! $99 USD on average. This link to offical XP-Pen Store : https://www.storexppen.com/buy/56.html , if you are interested in purchasing it.
Form & Function
The tablet is thin and light, which I really like. The corners are rounded, but the edges where your arm rests probably could be smoother. The whole thing is large enough that itís not that much of an issue for me, but I could see that as a place to improve.
Configuration
This is from a Mac perspective, so if you have windows, it may be different. From what Iíve read, the installation process seems pretty smooth.
On Mac, installing drivers is really easy. On their site, they list compatible programs, so I recommend looking at the specs + compatibility link thatís listed in the beginning of this review to see if this tablet will work for you. A lot of popular programs are fully and officially supported, like SAI, Photoshop, and Clip Studio Paint.
I use Krita, and the lines are a tiny bit shaky, but not that noticeably so, and Krita comes with stabilizers, so I donít have a real problem. The software also just reached a major new version, which may also play a factor.
Configuration is easy, through ďPen Tablet Settings.Ē Itís pretty straight forwards. I did configure my pressure curve to be a bit shifted to the left so that I donít have to press as hard as default. This way, I can presserve the pen tips.
The pen
The pen comes with a handy holder that contains spare nibs, as well as a place for the pen to stand on your desk. Thereís felt on the bottom of it, and the whole assembly is a nice touch.
For the drawing instrument itself, itís quite well made. It isnít too light, but lighter than my old wacom pen, has a nice grip that is comfy to hold, and has 2 configurable buttons that are easy to press. The nibs are long, so I think they will last a while. If there are any issues, I will let you guys know in a future update.
Itís a responsive pen, and I like drawing with it just as much as I did my Wacom Bamboo.
The tablet
I am a huge fan of the dial (and the express keys). Thatís a unique feature to this tablet, and is a great tool. I have it currently set to brush size, but you have options! Itís easy and smooth to turn, and you have clickiness that allows you to feel and control it without looking. You can also press down on the button on the middle of the dial, as yet another express key.
The surface of the tablet itself is nice because the drawing texture is nice. Itís not too glidy or glassy, but also not so rough that itís annoying to use. It scratches a little when you draw on it, but thatís what happened to the old bamboo as well. The DECO 03 may be a tad softer, but I will need more time to fully evaluate the long time durability of this tablet.
I am guessing this tablet will last a long time, though. The choice of USB Type C rocks, because youíre less likely to jam it in the wrong way and break it, compared to the fragile micro USB. I also like that you can use it wireless, though itís less smooth when using it that way.
Intuos Pro Vs Bamboo - A Review
When I decided I wanted to upgrade my tablet, my biggest concern was: Is it worth it to go from Bamboo to DECO 03 ? Is it a significant improvement, or should I save money for a Cintiq or xp-pen artist instead?
I did a lot of research and couldn't find anything of much help, so I went ahead and tried the DECO 03 to see for myself, and now Iím going to share what I found in this review while comparing it to the cheaper alternative Bamboo line for those who are wondering, like I was, which one should they buy, or whether or not they should get rid of their Bamboo. I hope you'll find this helpful!
Here they are: Bamboo Connect CTL470 (2.5+ years old) on top, Intuos Pro (4+ months old) on the bottom. They are both ďsmallĒ sized but they look radically different, right?
The DECO 03 Digital Art Pad has the bigger drawing area than the Bamboo, which giving you more room for arm movement, which is a big plus; it makes drawing easier and a lot more comfortable.
DECO 03 has 8192 levels of pressure sensitivity versus the 1024 levels of the Bamboo line. Now, itís not like it makes a world of difference, especially in the looks of the final product (a painting) BUT I can tell/feel the difference.
Drawing surface texture: The Bambooís texture is good but DECO 03 is smoother, I prefer it!
The DECO 03 has buttons in it which you can configure as you wish with pretty much any of your softwareís shortcuts, itís pretty awesome! Itís not a huge advantage for me because Iím used with using the keyboard for shortcuts, but some people love them. It also has that wheel which you can use to zoom in and out, change layers, change brush size and rotate (you can switch between these commands by pressing the button in the middle).
The DECO 03 has a wireless adapter. I thought I wouldn't care for it so much but oh man was I wrong! I love not having even more cables on my desk! The charge lasts for a wonderful amount of time, I have no complains! However, the bigger the tablet size, the less the charge will last.
The DECO 03 feels more bulky and durable than the Wacom Bamboo , and people on the intwerwebs seem to find it durable too (mine is new so I donít know. I had my Bamboo for 2.5+ years, beaten it up a lot, carried it with me all over, dropped it and itís pen, and it still works perfectly and the drawing surface is worn out but fine and has no scratches)
The XP-Pen DECO 03 driver lets you customize pen pressure in a more effective way Ė which you should do! It also allows you to configure it differently for general use and for drawing-software use! For instance you can keep the touch on only for general use, etc.
The DECO 03 doesn't has a touch feature (most Intuos and some Bamboo have that Features ) and it works beautifully, it doesn't get confused by your hand on the tablet while drawing or anything .
Both the Bamboo and DECO 03 doesn't have a Pen tilt sensitivity , the Intuosí Grip pen has a tilt angle of up to 60 degrees (which can be very useful when using certain brushes, if youíre into them).
The Bamboo has that thing to keep your pen in which I actually like a lot, but the XP-Pen' pen stand is just beautiful, especially because it also serves as pen nibs storage.
Some people said that the DECO 03 surface scratches easily (in like a week or two of use). They said the same thing about the Bamboo Ė didn't happen to any of my tablets. All you have to do to avoid this is change the pen pressure levels, make it more sensitive, so that you donít need to put much pressure on the pen. Another thing you can do to further protect the surface is to put a paper on top of it, it actually feels pretty cool!
Twice so far has the DECO 03 tablet gone crazy. One time it went back to the default settings and I had to re-configure it. The second time it was simply out of control entirely, acting up really bad. I re-installed the driver then, uninstalled the old tabletís driver, and thus far itís been behaving itself wonderfully (issues-free for about 2 months). The good news is that every XP-Pen tablet allows you to make a backup of your tabletís settings so all you have to do is and load it if you have any problems!
Drawing Experience and Samples
This is A design contest entry I created
Overall, this thing is great to work with!
I love the texture, since it balances perfectly between roughness and smoothness. The pressure sensitivity is awesome for this price point, as itís on par with Wacomís Intuos Pro line of tablets.
These types of tablets are also really helpful in graphic design work. I also hope to start dabbling in vector illustration.
Drawing art work I created by xp-pen deco 03 digital art pad.
Final Words
In the end, I decided the XP-Pen DECO 03 Graphics Drawing Tablet was a worthy upgrade and kept it.
However, I am convinced that one can achieve the same level and complexity of artwork in both tablets. Considering the XP-Pen tablets are usually less than half the price of an Intuos, if you have a budget or if you'd rather save some money, go with the DECO 03 , itís going to serve you well.the DECO 03 is a really, really good tablet and I donít regret getting it for one second!
Now if you can spare the extra moneys (or if youíre getting it for Christmas lol) then I do recommend the XP-Pen Artists line, XP-Pen Artist line tablet is a monitor tablet by which you can draw directly on the screen .
I hope this review helps! I recommend purchasing this product. Itís been a great replacement, and I really think itís a quality product. XP-PEN seems to show passion for their products, and their customer service is pretty responsive as well!
Thanks for reading! If this post helped, please consider sharing it with your friends!
Comments (0) :: Post A Comment! :: Permanent Link

ē 24 October 2018 - Wacom Cintiq Alternative: XP-Pen Artist 22 Pro 22″ Monitor Drawing Tablet review
Whether you are painting digitally, sculpting in ZBrush or using 3ds Max, chances are you use a graphics tablet of some description. In this review we will be looking at the XP-Pen Artist 22 Pro to see if this can help you take your work to the next level.
We all probably started with an entry level digital art tablet , with limited functions and space to work. I know I did, I had a tiny Wacom Bamboo and a few years later upgraded to a Wacom Intuos 5. Maybe Im the only one, but Ill never forget the first time I saw someone painting directly onto the screen of a Wacom Cintiq. The first thing I did was open the Wacom website and take a look at the cost of this magical device. $2000 GULP! I have since spent time using a Wacom Cintiq and I know that they are worth every penny, but it is a lot of pennies.
We have been asked many times before to take a look at some of the more affordable display tablets and the kind people at XP-Pen were happy to oblige and provide me with their Artist 22 Pro tablet which I will be considering in this review.
The XP-Pen Artist 22 Pro is a Graphics Monitor Display developed by XP-Pen Technology which was founded in 2005 according to their website.you can find the XP-Pen Artist 22 Pro on their website, If you purchase the package deal you will receive a screen protector, drawing glove, a VGA connector cable, so I advise you to have a DVI cable on hand if you need it. You also receive an HDMI cable, USB connector, two stylus pens, a pen stand with extra nibs in it and two pen charger cables. Overall, I consider this a good tablet and definitely a great affordable alternative to Cintiq.
So let's get the big bit out of the way to start with, price. This is a huge plus point for this tablet. This is currently retailing at less than $550 on https://www.storexppen.com/buy/60.html . A comparable sized Wacom is going to cost three to four times as much. This is still no small amount, but it does bring the price into the realms of realistic even for a hobbyist.
Features
Weight: about 15.4 lbs (7 kg)
Pressure Levels: 8,192 levels of pressure sensitivity
Viewing angle: IPS LED screen with good viewing angles (178 degrees, or +/-89 degrees)
mode: Dual-monitor, Mirror/Extended mode
Display Diagonal: 21.5″
Dimension: 57 x 321 x 30 mm
active area:18.76″ x 10.5″ (476.64 x 268.11 mm)
aspect ratio :16:10
Display Resolution: 1920×1080 dpi up to 16M colors
Stand:VESA-mount compatible
Report rate : 266 rps
Accuracy:Accuracy (parallax, gap between penís drawn line and screen) plus or minus .01 in
Resolution: 5080 lpi
digitizert:UC-Logic digitizer
Compatibility:Windows 7/8/10 and Mac OS 10.10 or later , no linux .
The tablet is not multitouch, meaning you canít use your fingers to paint or do anything on it.
First Impressions
When your XP-Pen arrives it will come in a very standard brown box with no obvious branding or flashy graphics showing off what it can do. I guess it keeps the price down and I'm in favour of that. You will find everything you need in the box to get you hooked up and ready to go. The instructions are pretty basic; however I had mine up and running in minutes with no complications.

You will need a plug socket to power your device, a USB and either a VGA or HDMI socket free to get everything connected up. These are all provided along with the driver which was super easy and quick to install and Im hardly a tech wizard. I had it up and running in no more than 5 minutes which I found surprisingly good.
I must admit I was positively surprised by the weight and feel of it. Ok there are a few plastic parts, but it doesnt feel like a cheap device. It is not a flimsy graphics tablet that feels like it is about to fall apart. The screen is fantastic and it sits very firmly on my desk without any concerns.
The buttons are on the bottom. They are not too hard to reach because the stand lifts the tablet above the table; still, it would be nice if they were in a more convenient place.
The monitor build quality as a whole isnít as premium as Wacomís, but itís solid and stable. Though there are volume controls, there are no speakers; they are for speaker support.
The monitor sits on the stand above the table, making the buttons, which are on the right and along the bottom, easy to access. The ports for the cables are on the back, and a little hard to get to because of the stand. The cables can also get mixed up in the stand.
The device is made of rugged textured plastic with rubber on the base and bracket.The stand can be adjusted up and down to any angle but does not rotate .The stand is removeable and VESA-compatible; you can replace it with a mounting arm.
The IPS Screen / Tablet
The active area on the Artist 22 Pro is the same as on the Cintiq 22HD, as they both have a 22″ LCD screen for a drawing surface. the XP-Pen Artist 22 Pro has a UC Logic digitizer. For those of you who donít know, the digitizer is what enables the tablet to read pen pressure and location input to allow you to draw lines on the screen surface.
It has 1920 x 1080 resolution, at around 100 PPI (pixels per inch), equal to the Cintiq 22HD. The tablet will come uncalibrated in the box, and you will need to complete your physical tablet setup and put it in itís permanent position before you start calibrating. I tested it and It looks similar from the various angles, so Iíd say itís around 170 degrees as well. I recommended that you finish your physical workspace setup first because vertically, the viewing angles are not as good as horizontally.
Once the XP-Pen Artist 22 Pro drawing tablet for pc was installed it has been a wonderful experience. The screen protector doesnít hinder my artwork and since I havenít spent time on a graphics monitor for a while, it seems anything is better than the usual graphics tablets. Still, I felt the surface wasnít a hindrance overall.
My background is in illustration and I have been a very satisfied user of Corel Painter for many years. I opened up the software to check out the pressure sensitivity. Immediately I was impressed. Im pretty heavy handed with my tablet, but straight away this felt very comfortable to me. I have always found it easier with my Wacom to go from a thin line to a thick line; however with this device it felt just as easy to go from thick to thin.
ItĎs really hard to capture the quality of the screen in a photograph, but I opened up a painting I had been working on recently and viewed it on the XP-Pen and my Samsung LED monitor at the same time. The colors looked more vibrant and the image was clearer. In fact it made me want to get stuck into working on the painting more as it now felt clearer and crisper.
Colors are bright and clear, and matched my computerís with a little adjustment to the brightness. The Cintiq have a textured screen. The others have a smooth glossy screen, including the Artist 22 Pro. I donít have a preference, but some people like the Cintiqís matte screen because it cuts out the distracting glare from the gloss finish. Other people hate the matte finish because it makes the screen a little darker and foggier than they are used to. Itís all a matter of preference, so just go with whichever you like. With the glossy screen, you have to wear the drawing glove all the time, since the bottom of your palm with leave oil marks all over your screen.
If you donít like the Cintiq and are adamant on getting a XP-Pen Artist 22 Pro or similar tablet, The screen protector will cut down glare and make the screen a little textured so that it feels more like drawing on paper. It went on very easily, did not bubble, and was a nice matte surface good for drawing.
There are no hotkeys on this tablet, you can buy a remote for it. Wacom has a remote for their Wacom 27QHD that includes a handy touch ring for zoom and rotate. I only own the Cintiq 13HD, which has a rocker ring and not the touch ring, but I also have an Intuos Pro and Intuos 4 that has the ring. Personally, I love the touch ring and got so used to it that Iím always disappointed when I review a tablet that doesnít come with a touch ring. To optimize your workflow, get a wireless remote to use with your XP-Pen Artist 22 Pro so that you donít have to reach across the table to do your shortcuts.
So far, I havenít come across a tablet other than the Cintiq Cintiq that has tilt-sensitivity. There are some other reviewers who will say that a XP-Pen, Yiynova or Huion has tilt-sensitivity but THEY DONíT. Certain programs like Photoshop are able to detect the tilt of the pen and change the pen jitter to give you thicker or skinnier lines. This is how it works with real drawing instruments, so itís good if you have it, but itís also not that big of a deal since only certain programs support it and not even all the brushes in these programs are tilt-able.

In terms of pen sensitivity, it has 8192 levels, which is on par with the other LCD drawing tablets, and youíre able to change much of the same settings: pressure sensitivity, program the two pen buttons, and calibrate.

As far as support, thereís never really any guarantee that these non-Wacom companies will fix issues that you have. Iíve gotten pretty lucky so far with these Wacom alternatives, every company whose product Iíve tried has been good with customer service.
The P02S Stylus
The pen weighs 17 grams and is comfortable to hold. It doesnít have indentations or a grip, but it has a good balance in the hand. It slides quickly over the glass, since the screen is slick, though not super-slippery.
Using the screen protector slows it down somewhat. Some people like to draw on a glossy surface; others prefer a textured screen such as that on the Cintiq, or a more matte screen protector.
The pen has good tracking, with a bit of parallax due to the thickness of the screen, as does a Cintiq tablet. I did not notice any jitter.
The pen features an auto-sleep function to save battery life. It takes 1 to 2 hours to charge, which will last a couple of weeks, up to 130 hours depending on use. Because two pens are included, you can keep one charged and switch to it when needed. The pen weighs 17 grams.
Thereís a blue light indicator to signal when the battery is low. The pen is rechargeable, but the battery that comes in it is not replaceable.
While charging, the pen light will be red until fully charged.
The two buttons on the pen are programmable in the driver. You can toggle it with just one click and one hand, since the button is within reach of your drawing handís fingers, so you could program one button to switch to the eraser, which could save you time.
Unlike the Wacom Pro pen, this pen does not have an eraser on the back end. The buttons can only be customized for mouse functions, such as right-click, as well as eraser.
At first, I thought the battery powered pen that needed to be recharged would annoy me (it has to be charged out of the box for a quick second). But I got used to it and the battery lasts for a long time! I also use the iPad where the Apple Pencil needs to be charged, so this is a similar concept but the pen can be used and charged at the same time. There are two button configurations for the pen which are useful.
Drivers

Some users report no problems at all and others had some glitches. The XP-Pen site has a page of troubleshooting tips. Drivers from other tablet systems, such as Wacom, should be uninstalled. So if you want to switch off with a Wacom Intuos or Cintiq, you would have to reinstall those (itís probably a good idea to uninstall the XP drivers before reloading the Cintiq ones). There donít seem to be major driver issues overall.
Very easy setup. Download the right driver from the XP-Pen website. I had to fiddle with the Color to get it right on and off and at the end it was not noticeably different from my laptop screen. Meaning I can paint on the tablet screen without final adjustments to match it to my laptop.
I was able to adjust the color the XP-Pen settings and my laptop color profile settings. It took one or two passes but it came out 95% accurate. I'm a stickler for color so I was surprised. The screen was a little brighter than I expected, but that was adjustable as well.

Art Software
Programs for Mac and Windows,including open-source software, work fine, including Photoshop, Paint Tool SAI, Illustrator, Open Canvas, Comic Studio, and Zbrush.
On Mac El Capitan, I tried Photoshop CC, Illustrator, Krita, Gimp 2.8, Manga Studio/Clip Studio Paint, Rebelle, Sketchbook Pro, and Sculptris, which uses ZBrush. Pressure and everything else worked great in all of them.
On Windows 10, I tried out Photoshop CC, Gimp, Paint Tool Sai, and Sketchbook Pro. The pressure sensitivity and overall drawing experience were great in Photoshop and Paint Tool Sai. Paint Tool Sai delivered really smooth lines.
As expected, Illustrator and Inkscape did not get pressure, as expected (because only Wacomís do), but you can still use these programs. Pressure works with vector layers in Manga Studio, so vector painting is not a lost cause.
Drawing on the XP-Pen Artist 22 Pro
Anyone who has used a tablet will tell you that there is a slight delay when you move the pen. This is always going to be the case and this was probably the thing I was most concerned about before reviewing this device, as a long delay could be a deal breaker. However the delay is not in any way a problem. In fact I considered it to be very responsive.
Pressure sensitivity flows pretty well. If it is too sensitive to you then you can pull up the monitorís control panel called Penates and set your sensitivity. Once set everything works fine. I spent several hours illustrating characters on the XP-Pen Artist 22 Pro without any problems. No crashes on my system, nothing. Everything flowed perfectly fine.
So then it was time to really put it through itís paces. I always struggled to sketch directly in Painter using my Wacom, it never really felt natural to me. I would always do a traditional sketch and scan it before working on the painting. I wanted to see if painting directly on the screen would make a difference and the truth is that it really did. It was no issue at all to quickly throw down some lines and get a sketch started. In fact it felt very much so like drawing on paper in front of me.
XP-Pen Artist 22 Pro vs. Cintiq 22HD
No XP-Pen Artist 22 Pro review can claim that the XP-Pen is ďas goodĒ as a Cintiq. But the XP-Pen Artist 22 Pro is enough for artists who donít need all the bells and whistles. It has the same levels of pressure sensitivity and display resolution, and itís brighter (250 nits vs. the Cintiq 22HDís 230). The screen is glossier, because it doesnít have the coating that Wacom uses to give the surface some bite. The included screen protector from 3M works well in giving the drawing surface a little friction.
The Cintiq 22HD lets you customize express keys and the pen buttons to keyboard shortcuts. The pens also have a variety of types of nibs. Cintiqs support tilt and rotation sensitivity and their stand rotates. They offer a touch version with which you can use your hands to do gestures or draw.
Wacom Cintiqs offer more features, but you donít really need these to draw; they are to streamline workflow. The XP-Pen gives you most of the features of the Cintiq. The choice depends on your own needs and preferences.
Vs. tablet PC: The drawing features of the XP-Pen and other Cintiq alternatives are like those on tablet PCs such as Surface Pro and Lenovo ThinkPad YogaĖthereís no tilt recognition or express keys.
Pros
Affordability
Size , Screen and display of high quality
Cables simple to set up (no splitters and such)
Adjustable stand
VESA-compatible (meaning you can attach it to VESA stand, so it can go on a wall or mounting arm)
Excellent pressure curve and pen sensitivity
Good build quality
no jitter , Good accuracy
programmable pen buttons
uses EMR, a sensitive digitizer system allowing excellent drawing control
Comes with generous amount of extras (extra pen; several types of cable; cleaning brush and cloth, screen protector, adapter for Mac)

Cons
No programmable express keys
No tilt or rotation sensitivity; pen tilt is manually adjustable, though.
No multitouch option
Pen needs to be charged, though the extra pen helps
Only one type of pen and one type of nib, as opposed to the variety available for Cintiq

Summary

So what is the verdict? I have always found using my Wacom and painting digitally from the start tightened me up and made my illustrations much less loose and exciting. I have always presumed this is because of the unnatural processes of looking up at a monitor, while my hand was on a Wacom at my side. I feel this device will really help to shake that off.

If you are currently using a regular tablet and are looking for something to help you take that next artistic step forward this really could be what you are looking for. Its so easy to use and feels natural on the very first go. Whether you are a 3D or 2D artist Im sure you can imagine the possible improvements a pen display tablet could make to your work, but I imagine much like me you are either put off by the price of a Cintiq or nervous of buying a cheaper device.
This XP-Pen Artist 22 Pro professional graphics tablet can be bought with confidence. Okay it lacks buttons to use as hot keys and the stand on the back feels a little plastic. Also you will find a very limited amount of support online compared to a Wacom device. These are the only reasons I havent given it 5 stars. This is however a genuine option for hobbyist and professional artists alike and I am certain that within five minutes of using it you will see how it can help your workflow. Save up and get yourself one of these, I know it will put a smile on your face and it will be a great investment to help you improve your own art.
Comments (0) :: Post A Comment! :: Permanent Link

ē 27 August 2018 - XP-Pen G640S Graphic Tablet Review : Design for OSU Signature signing
Anyone working on an image in Adobe Photoshop or on a drawing in Corel Painter realizes how nice it would be to just pick up a pen and "draw" rather than trying to use a mouse. This is why graphic artists have long turned to XP-Pen pen tablets for editing digital photography and digital art.
For photographers and graphic artists who havenít already embraced the idea of a pen tablet or tablet PC, the appeal of the XP-Pen G640S is that it is a full-featured "graphics tablet." Tablet PCs offer a great deal of flexibility and a range of practical applications; leading to their popularity with artists and other creative professionals.
So recently Iíve purchased the XP-Pen G640S USB Pen Tablet. Iíve bought this nice piece of gear with the intention of being able to expand the way I use the cursor to select things on my computer. For some people, that may mean being able to draw more naturally, write digitally instead of using the keyboard, for playing OSU professionally; and/or acting as a mouse replacement for the ergonomic benefit, preventing/letting carpal tunnel to heal.
I also imagined that a graphics tablet would help me in video or photo editing. Video or photo editing can require an immense amount of time and concentration, and using a mouse in such a rigid fashion can lead to complications like strain, RSI, carpal tunnel, among other things. Whereas using a tool like a pen tablet feels more natural to use in the hand without putting strain on your wrist. And for this reason, there are many people who use a graphics tablet like the XP-Pen G640S as a total replacement to the common mouse.
The point at which I realized the true value of the tablet is simply when I started seeing how much faster I can edit faces with the pen tool. Because the tablet has a relative positioning attitude (so your tablet is mapped to your screen, and a specific point on the tablet will always be the same point on the screen) you tend to be able to move to exact locations on XP-Pen tablet surface image and edit out blemishes much faster than with a mouse. Also, changes made with a Photoshop tool that requires a natural flow along the lines of your object (like a face) is just so much easier to do well with a pen or stylus than with a mouse. I would not be over-exaggerating to say that it has cut editing time in half.
I absolutely love my XP-Pen G640S , and I'm ashamed that I didn't place a review for this superior product before now. I was helping a coworker select a XP-Pen tablet for her desk this morning when I decided to write this review for the Wacom tablet. Bottom line for the Star G640S: convenient size, excellent pressure sensitivity, durable construction, excellent value for the price. I would consider this a must-have for any serious digital illustrator or designer.it's price is $49.99 .you can get more information from https://www.xp-pen.com/goods/show/id/371.html .
What are the Specs for the XP-Pen G640S Pen Tablet?

The size is of the G640S tablet is 259mm wide by 160mm inch height . But the active area on the tablet is 6 x 3.75 inch .the Star G640S is small and light enough to pick up off the desk and work with right on your lap. With a thickness of just 9mm, itís thinner than just about any device on your desk.

I mean the tablet works very smoothly, but the small area is a tad bit hard to use. If you plan to heavily use a drawing tablet, I would suggest looking at the XP-Pen DEC0 01 tablet if it fits your budget, as the increased drawing space is more ergonomic and comfortable to use.
The G640S tablet has a reporting rate of 266RPS, and in my experience moving the cursor from one end to other on the monitor was as smooth like with any other standard mouse. The G640S pen come with 8192 levels of pressure, which is more than enough for showing the density of a drawing stroke. Just make sure that you check the ďSupport TabletPCĒ checkbox on the XP-Pen Driver if the pressure sensitivity isnít working with your Adobe Photoshop CC software.
The included grip pen is XP-Penís standard two-button unit.the new Intuos pens are much more comfortable to hold that the old plastic pens because of the rubber coated grip. I personally found the pen to be perfectly weighted and balanced. The contoured grip area is thick enough to promote good pen holding habits and reduce fatigue.
The tip on the pen seem much more "springy" and responsive. Pen tips are removable/replaceable, and XP-Pen supplies several different tips (also called nibs).
The resolution of the pen tablet is 8192 LPI, or Line per Inch.

The new Intuos features a USB connection that permits hot-swappable, on-the-go design. the G640S also have 6 Express keys that you can assign any keyboard shortcut that youíd like.
The XP-Pen G640S is compatible with many major graphics applications including Corel Painter, CorelDraw, Adobe Photoshop, Adobe Illustrator, Adobe Fireworks, Macromedia Flash, Comic Studio, GIMP, SAI, Infinite Stratos, 3D MAX, Autodesk MAYA, Pixologic ZBrush, USB interface. Note that you can perfectly use the G640S as a mouse.
The G640S pen tablet also supports Windowís Vista/7/8/10 and Mac OS 10.8.0+

What are the Pros of the XP-Pen G640S Pen Tablet?
Highly Portability
I find that the G640S tablet can be pretty useful. Itís extremely portable due to its extremely small notepad-like dimensions and extremely light weight; youíll hardly notice a difference if you add the XP-Pen drawing tablet to your hand bag or backpack.
Customization & Programmable Keys
I mentioned before that there are 6 programmable keys to the side of the G640S tablet. These are great, because when you are in the middle of drawing something out, you can quickly perform a command inside the graphics program that you choose to use. There are also an additional 2 programmable buttons on the pen itself; you can either designate them as left & right mouse buttons or anything else if you wish. it is easy use by both right-handed and left-handed artists.
Along with programmable keys, there are many features that you can customize for the G640S drawing tablet. That includes the levels of pressure for the penís tip, the active area of the tablet, which monitor to select if you have multiple displays, and more. You also have the option of matching the active area size to match your display ratio.
The significance of G640Sís new ExpressKeys is that they greatly speed up workflow in graphics and other applications. The innovative ExpressKeys provide quick access to commonly used modifiers, mouse clicks, keystrokes, and other time-saving operations used by photo editors, graphic designers, and digital artists.
Pressure levels
The pressure sensitivity of the XP-Pen G640S is pretty amazing for such a cheap price. With the correct settings enabled, I found that I could smoothly ramp up the gradient of darkness & lightness depending on how hard or soft I pressed my pen against the tablet- given that the XP-Pen drawing tabletís software is properly configured. The tabletís surface was smooth enough to feel like I was using pen and paper, albeit with a tad bit more scratchy feedback than an actual graphite pencil on paper.
The pressure sensitivity is amazing and allows me the complete control over the virtual medium that I am handling (airbrush, pencil, ink, paint, etc). Photoshop, Illustrator, and Flash are all designed to work with the pressure sensitive pens, and the level of control is amazing. Photoshop's new custom brush palette, combined with the Wacom tablet, permit me to create custom brushes to simulate the appearance of color pencil, pastels, and chalk in such a realistic manner that it's difficult to discern what is real and what is digital.
Highly Responsive
With resolution and data rates (5,080 lpi, 200 pps) on par with XP-Penís other higher-end tablets, performance was predictably smooth and precise. The G640S tracks quickly, without any noticeable lag even when rapidly moving the pen back and forth. The G640S has 1024 levels of pressure sensitivity and pressure-sensitive functions in both Photoshop and Corel Painter performed exactly as expected. I particularly enjoyed the ability to use pressure sensitivity when applying Nik Color Efex filters to images in Photoshop.
Again, I would like to add that new tools requires a bit of time to become accustom to.

What are the Cons of the XP-Pen G640S Pen Tablet?
There are a few downsides or features that could have been improved upon the XP-Pen G640S drawing tablet.
Drawing Room
First of all, I feel that the drawing area is a tad bit too small. Sure, the tablet is exceptionally usable and smooth to the pen movements. But I feel that due to the small drawing area, it takes me longer to to accurately draw what I want with precision. Maybe with enough time I would get used to the small drawing space, but if I had the budget I would go for the spacious XP-Pen DECO 02 tablet, just for ease of use.
Wired
Maybe this is just nitpicking, but I really donít want to add anymore wires to my desk. My keyboard has a wire. My mouse has a wire. My webcam has a wire. My desk lap has a wire. My microphone has a wireÖ I could go on. Itís no surprise people like going wireless. So ignore this nitpick if you donít mind adding an extra wire to your desk. Or alternatively, you could look into a wireless solution, like the XP-Pen Wireless DECO 03 Drawing-Pad.
Requires Software Installation
The XP-Pen G640S tablet requires software installation. You can install the software by download it from their website. it opens a window with a list of drivers; you simply have to choose which tablet you have out of that list. Then the software installation begins. Again, this is nitpicking. But for people who have virtually zero computer skill, theyíll need someone a little more computer adept to help them given that this tablet isnít plug & play (actually, many drawing tablets arenít, because the custom software allows for better customization- like assigning which button on the tablet & pen does what).
Operating the XP-Pen G640S Graphics Tablet as a Mouse Replacement
So there are some people out there who choose to use a drawing tablet like the XP-Pen G640S as an alternative to a mouse. The primary reason would be for better ergonomics. The way that many people hold the standard mouse is not safe for long term usage. Even I find that if I keep using a regular computer mouse for an extended period of time, I start to feel cramps and strains in my wrist- all warning signs of RSI (Repetitive Strain Injury).
Whereas with graphic drawing tablets like the G640S, they require you to hold the ďmouseĒ in the pen hand position. This greatly reduces the amount of strain that the wrist experiences, because the rotational angle of the hand is in a more natural position.
Youíll need to use the XP-Pen tablet drivers in order to configure the buttons on the pen and the express buttons on the tablet. A good configuration is to make the penís first button a right mouse button, and the penís second button as the middle mouse wheel button- which allows you to use the penís second button for auto-scrolling. Note that youíll need to tap the pen twice on the tablet in order to perform a double-click.
The tablet also gives you 6 express buttons that you can are easily configurable to perform any hotkey combination like Ctrl, Alt, Shift, plus any letter, number, PF key, etc.
A good configuration option for those 6 express buttons are to save with Ctrl+S, to close an application with Alt+F4, and Home (no hotkey needed, predefined) or other functions.
Experience In Use
Most artists who use a pen tablet for awhile will tell you itís impossible to go back to a mouse after using pen-based control. I am something of an oddity among the photographers and graphic designers I know in that I "like" pen tablets but Iíve never really "needed" pen tablets. That is, I never needed a pen tablet until I started using the G640S
Iím not sure what it is about using the G640S with my studio desktop that makes it like a match made in heaven, but I honestly have a hard time even entertaining the idea of not using this tablet on a daily basis. The setup on my Windows 10-based desktop was a breeze. Photoshop CS6 instantly responds to the pen, mouse, and ExpressKey inputs as if theyíve always been there. The 259 x 160mm footprint is perfect for my desk and the battery-free wireless pen mean that I donít have to worry about cords and I donít have to worry about charging/replacing batteries.this tablet have the 6x3.75 drawing surface, which I find to be an adequate size for me to accomplish all of my design-work and illustrations. It also is a convenient size to fit into my bag .
I spend about 10 hours a day working in Photoshop, Illustrator, Flash, and other design related programs including 3D Studio Max. I've been using a XP-Pen G640S tablet for about four months now, and I love it. It would be impossible for me to create the designs and illustrations that I do without my XP-Pen G640S . As an artist and designer, I used traditional mediums for years, and then spent another couple of years trying to figure out how to use a mouse in a way that would permit me to create quality images and designs on the computer quickly and in a way that resembled traditional methods.
Design for OSU
The biggest selling point of tablets for osu! is this absolute tracking. Every other parameter such as pressure levels, tilt sensitivity, barrel rotation, etc. will have no effect on your osu! gameplay. These features are for digital art, where the tablet can sense things such as the pressure you're applying to make a darker pencil mark, for example. The only specification which may affect your osu! gameplay is LPI (lines per inch).
This is essentially the "resolution" of the tablet surface, or how little you have to move for the tablet to detect it. If a tablet has 100 LPI, then you have to move at least 1/100th of an inch for it to register movement. However, even the lowest LPI should be far higher than any monitor that you're likely to play on, so higher numbers have a mostly unnoticeable effect on gameplay.
In short, tablets are an optional device to let you play the game in a different way. They were originally intended for digital art, but happen to work very well when playing osu!. Most specifications will make no difference in osu!.

For osu!, you'll probably be looking at getting one of the "small" sized tablets because it's a common strategy to reduce play area so that you don't have to move your arm when you play. However, it's personal preference as to whether or not you want a larger tablet area, and it's especially worth considering the "large" size if you are also into digital art; drawing is much more comfortable on a larger tablet.
Iím no master of the game Osu! since I only sit at around rank 100 000, only between the 5 digit and 6 digit ranks. However, I do think that I understand what is most important when it comes to shopping for an Osu! tablet after having tried Osu! on a bunch of these tablets
For context, I play Osu! with either mouse + keyboard or tablet + keyboard, depending on my mood. I map my active area to around 2.7×1.5 inches and use the hover ďstyleĒ rather than dragging.

From what Iíve experienced, I feel that accuracy, cursor delay, active area configurability, and hover distance are the most important aspects of an Osu! tablet.

XP-Pen Star G640S OSU Tablet :
Accuracy: Really good.
Pen Type: Plastic stick pen. Battery-free pen (no-battery/no-recharge).
Hover Distance: ~10-11mm
Without tablet drivers installed
Cursor Delay: Good. No delay.
Active Area Configurability: Unavailable without drivers.
With tablet drivers installed
Cursor Delay: Good. No noticeable cursor delay unlike XP-Pen and XP-Pen.
Active Area Configurability: Available in drivers.
So far, this is the only Osu! tablet that Iíve run into which doesnít have noticeable built-in cursor delay in the drivers. This is my recommendation for anyone who wants to get an Osu! tablet which they can draw on as well. Itís the exact same size as the XP-Pen Star G640S, except itís good for both drawing and Osu! gameplay because it doesnít have any noticeable built-in cursor delay whether you install the drivers or not.
The biggest con is the relatively small hover distance, so it might not be the best choice for you if you tend to hover too high a lot. I had no problems with the hover distance though, but thatís just me.
The reason why I recommend the XP-Pen Star G430S at the top of this post is because it uses the exact same drivers as the G640, therefore there should be no noticeable built-in cursor delay on the G430S either. However, the G430S is only recommended if you just intend to play Osu! on it because itís slightly too small for comfortable drawing.
So should I buy the XP-Pen G640S Pen Tablet?
Yea, I could definitely recommend the XP-Pen G640S Signature Pad as a high quality entry level tablet. You may find it perfect as a mouse replacement, but the tiny active area leaves a lot to be desired. The strokes made by the XP-Pen G640S are very smooth, and the pressure levels allow for smooth gradient transitions from light to dark. But if you are well in the budget for it, I would also recommend the XP-Pen DECO 02 tablet over the G640S just for itís bigger active drawing area.
The new Star G640S 2018 are a good entry-level graphics tablets for those willing to get into digital art. The small model with no Bluetooth is particularly good if you want to have an affordable XP-Pen tablet, its price is a bit close in price to the alternatives (although itís smaller in size).
While the Star G640S are entry-level tablets, I dare say professionals could use them, as long as they donít need some of the features exclusive to the higher-end Wacom Intuos pro, like the large size, tilt sensitivity.
Comments (0) :: Post A Comment! :: Permanent Link

ē 23 August 2018 - XP-Pen Artist 12HD Review: Can It be Your Graphics Tablet Monitor Choice
Hello friends, followers and watchers! This is not artwork, I know, but my latest purchase made me will to change the usual content I drop here, and indeed do a proper review of the thing. I was thinking about writing reviews on art supplies for some time, but heck, never went down into writing one. I mean, not until now, anyway! So, to cut it to the bone and the core of the matter Ė XP-Pen Artist 12HD Graphics Tablet Monitor. Is it worth it? Is it better or worse than Wacom Cintiq Pen display ? And if so, to what degree?
Feeling of Chinese Luxury : My biggest fear I had when I decided to give this XP-Pen Pen display a try was the quality of the components. Itís not that all Chinese products are automatically crappy, but when you offer a product that is significantly cheaper than its main competitor (that is also a dominant force in the market in question) and promise sameíish features, you kind of start to expect them to cut some corners. And the quality of the materials is one of the easiest places to spare some expensesÖ
That fear was pretty much banished when I opened the package. fashion white box looked professional from the start, but after opening it, I was utterly delighted. Everything packed perfectly, all the components are there and they were as high quality as you could hope for. tablet itself is small and not heavy, but it feels just /right/ - plastics donít feel cheap at all, are smooth and polished. The entire tablet doesnít creak or give way to pressure, giving a feel of stolid solidity. Every other component is a delight too. Pen is light as a feather and comes in a quite luxurious case with all extra bits (Like spare nibs and a metal ring holder for nibs replacement). One thick, 3-in-1 cable is quite a pleasant thing and will surely save some cable clutter while connecting this pen display.
XP-Pen Artist 12HD IPS graphics tablet monitor has 11.6 inch full HD screen intuitive display, 1920 x 1080 high resolution, fashion designed ultra-thin body, HDMI and USB, adjustable holder, customizable up to 6 express keys, a touch bar, 8192 levels of pressure sensitivity, weigh 1.2kg.With 6 customizable express keys and 2048 levels of pressure sensitivity, you can perform each stroke with accuracy while preserving intensity and increasing work efficiency.
For $229, the XP-Pen Artist 12HD tablet is a pretty good tablet for artists who are looking for a cheaper and portable tablet monitor.you can check this product on XP-Pen official site https://www.xp-pen.com/goods/show/id/380.html .
What makes XP-Pen devices special is that its cheaper than Wacom without sacrificing on portability and features.The size of the XP-Pen Artist 12HD is actually pretty great! Itís not too large and weighs around 1.5Kgs, making it possible for you to carry around the tablet wherever you go.

In fact, this is a list of everything that you get inside the box:
XP-Pen Artist 12HD Tablet Monitor , 3-in-1 Cable(HDMI, Power, and USB Cables Included),Pen Holder (New Digital Pen P06, 8 Pen Nibs, Removal Tool Included),Power Adapter,Quick Start Guide(Mac and Windows),Microfiber Cleaning Cloth,Artist Glove .
The key dimensions of the tablet are as follows:
Technical Specifications
Screen size:- 11.6-inch.
Screen resolution:- 1920 X 1080
Screen contrast ratio:- 700:1
Panel type:- IPS
Aspect ratio:-16:9
Screen viewing angles:- 178į
Pressure Sensitivity:- 8192 levels
Has a passive pen doesnít require charging.
Has 6 customizable hot keys and 1 touch bar you could configure to your heart contents
Upgrade from the Artist10S.
Comes with a 3 in 1 cable.
Can be used with both right-handed & left-handed people.
Screen Color Gamut:- 72% NTSC color
Colors:- 16.7 M
Resolution: 5080 LPI
Report Rate: 266 RPS
Product Dimension:- 364.11×218.87×11.5 mm
Active Area:- 256×144 mm
Windows compatibility:- Compatible with Windows 7, Windows 8 & Windows 10.
Mac compatibility:- Compatible with Mac OS / Mac OS X 10.8 and above.

The Tablet
The tablet is great for painting because it supports 8192 levels of pressure sensitivity. So, itíll be easier to draw on the screen with utmost precision. Further, the touch bar is upgraded from 8 levels to 24 levels and there are 14 user-defined shortcuts / express keys to make your experience smooth and easy.The screen resolution of 1920 X 1080 is high enough for drawing.
What makes the XP-Pen Artist 12HD tablet so great is that its the complete package. So, you donít have to hunt for a compatible pen or a stylus to complete your portable graphics tablet setup. Everything is covered by the company, which includes a two-level adjustable stand and a digital pen with 8 additional nibs.
I have had the opportunity to try several products of XP-Pen and this presents one of his best designs both aesthetic and functional, The body is almost completely plastic, mixing several finishes and shades with a striking result on the verge of being too much, but still a rather sober result. if you´re planning on painting outside home much or travelling a lot with the tablet.
The Glass Screen
The quality of the screen is definitely an improvement over other XP-Pen products, anti-glare, full HD, better viewing angles etc. But the problem comes when comparing it with the competition. Even more, after the last update of Wacom on the whole line of its professional products, raising the level of the screens to 4k and 99% RGB (which comes with a big price of course).
Colors may not be Artist 12HDís strongest point, especially with the 72% color gamut, which is around, this is considered normal color gamut, and unless you work in an environment where colors are super important, you wonít have to worry much about this.

However it is possible to create stunning concept art even on a smaller screen. The exquisite frosting surface treatment technology brings me an unprecedented writing experience. just like the original feeling of paper writing.
When you make a mark on the screen it loads fast. The response time is incredible for this model and itís much better than other XP-Pen devices.You can draw from any angle and still keep a strong view of the screen. Thereís no major glare but there is a thin coating that makes the surface super smooth. Opinions vary on screen textures but I think this smooth screen works great. XP-Pen ships this unit with an optional screen protector .
The drawing experience is surprisingly accurate even with the smaller screen. Youíll find no jitters in the work and the outer corners are still just as sensitive as the center LCD area. Every mark you make will instantly translate onto the screen with no lag time.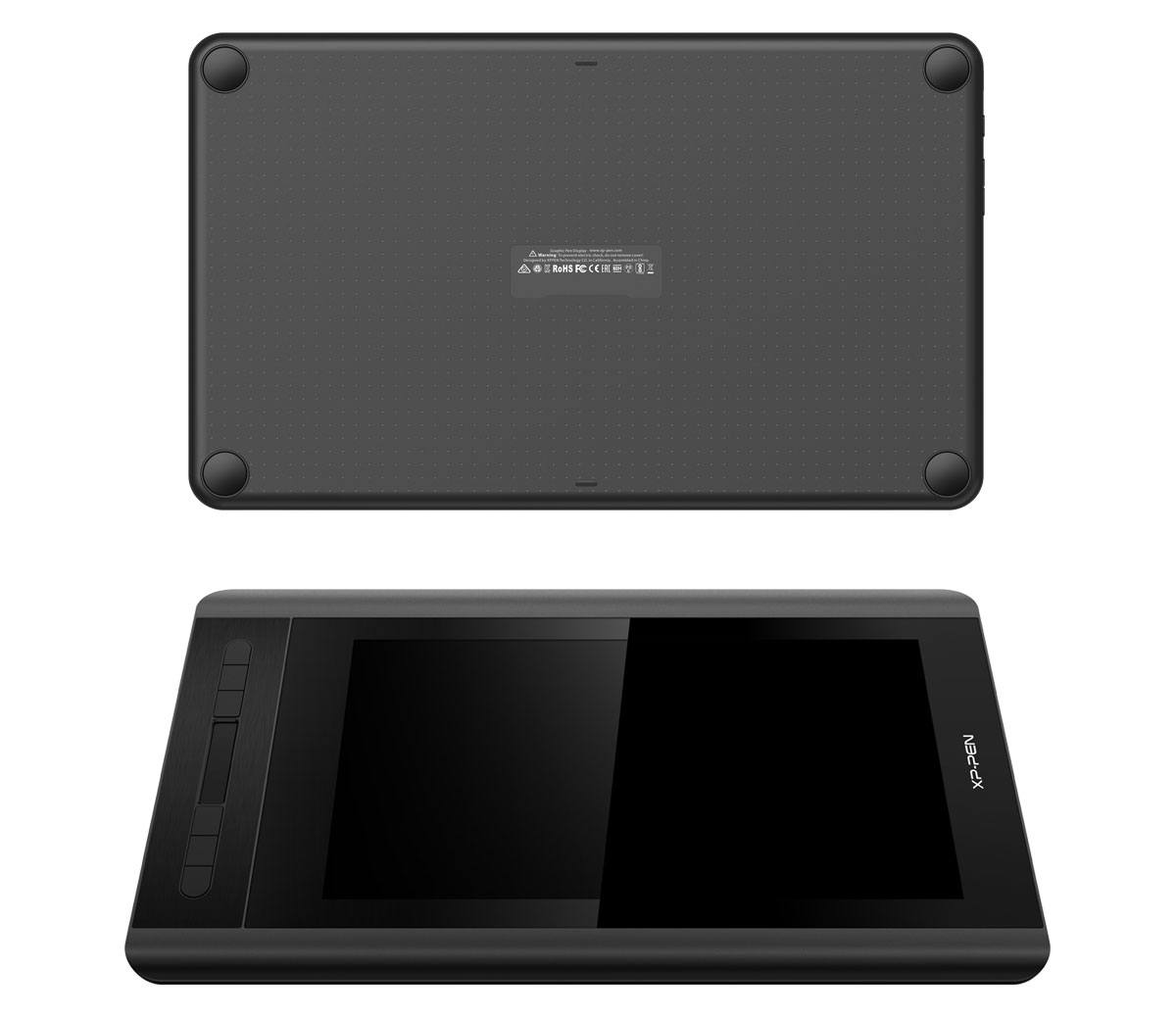 The 3-by-1 cable
This runs on DC power so it does need to be positioned near an outlet. But if itís on your computer desk then it can likely plug into the same outlet or power strip. The tablet is connected via an Hdmi, included in the 3x1 cable along with a usb and power supply. This last one has in itself a very curious fact, and is that the connector to the current is interchangeable according to the country where you live.
The sides and back are quite clean, we only have on the left side the 3-by-1 cable entry, the power button .The 3 x 1 cable keeps the work area fairly clean and it looks durable.
Since Artist 12 Graphics Drawing Tablet Monitor is compatible with HDMI there wonít be much of issues connecting it to any modern computer, including any computer with a display port that can be converted to HDMI, like USB-C, Displayport & mini Displayport. The only time this may be an issue is in case you only have VGA port in your computer. I honestly donít know if workaround solutions would work if youíre in such situation.
Bear in mind that XP-Pen Artist 12HD doesnít come with a stand. I donít think thatís a deal breaker for many artists, you can buy XP-Penís stand, buy a 3rd party stand, or make your own.
The Stylus
The P06 stylus also comes with a new design. Much more showy than its predecessor, although it does not contribute anything new,A detail that if I found a little annoying in the process of adaptation, is that the buttons are so deep inside the body that sometimes it is difficult to find them, Especially at night. Having said that, it works perfectly .
Since the pen is battery-free youíll never need to charge it. But if youíve never used a battery free pen before then it can take some adjusting. One other nice feature is the pen button which replicates a right click on your mouse. But the button is sturdy so you wonít find yourself pushing it by accident. The P06 battery-free stylus featuring digital eraser.
The driver
Speaking of the drivers, incredible improvement of the latest products I tried. Not at all 100% of course, there are still many things to polish, but they rarely fail and the configuration is quite simple.You can download the driver from XP-Pen official site or contact their customer service.
XP-Pen drivers installed within a minute, without any issue and the tablet connected after the installation not only worked perfectly from the start, but also had a surprisingly good Hotkeys already assigned in Photoshop Ė my main painting software. All in all, it wasnít any hassle to connect the tablet to my PC Ė both from the hardware perspective thanks to the 3-in-1 cable and from the software perspective, as the drivers worked flawlessly.
Customizable Press Keys and the touch bar
Since this is a smaller unit youíll only get six express keys. But this sacrifice might be worthwhile if you need a portable tablet.
Having 6 hot keys , as well as a touch bar for zooming in & out the canvas (you can customize it to do other things if you like). this allow me to increase my work efficiency. Tablet reacts to tapping well and the customizable hotkeys are really nice Ė tactile, responsive and easily reprogrammed to serve your purposes.
One of the aspects that most motivated me when I saw the photos of this tablet for the first time, was the touch bar. While I'm working, I use quite a lot the touch ring on my INTUOS to change the size of the brushes without stopping and I just love it because makes me go really fast. I tried it and I was very disappointed.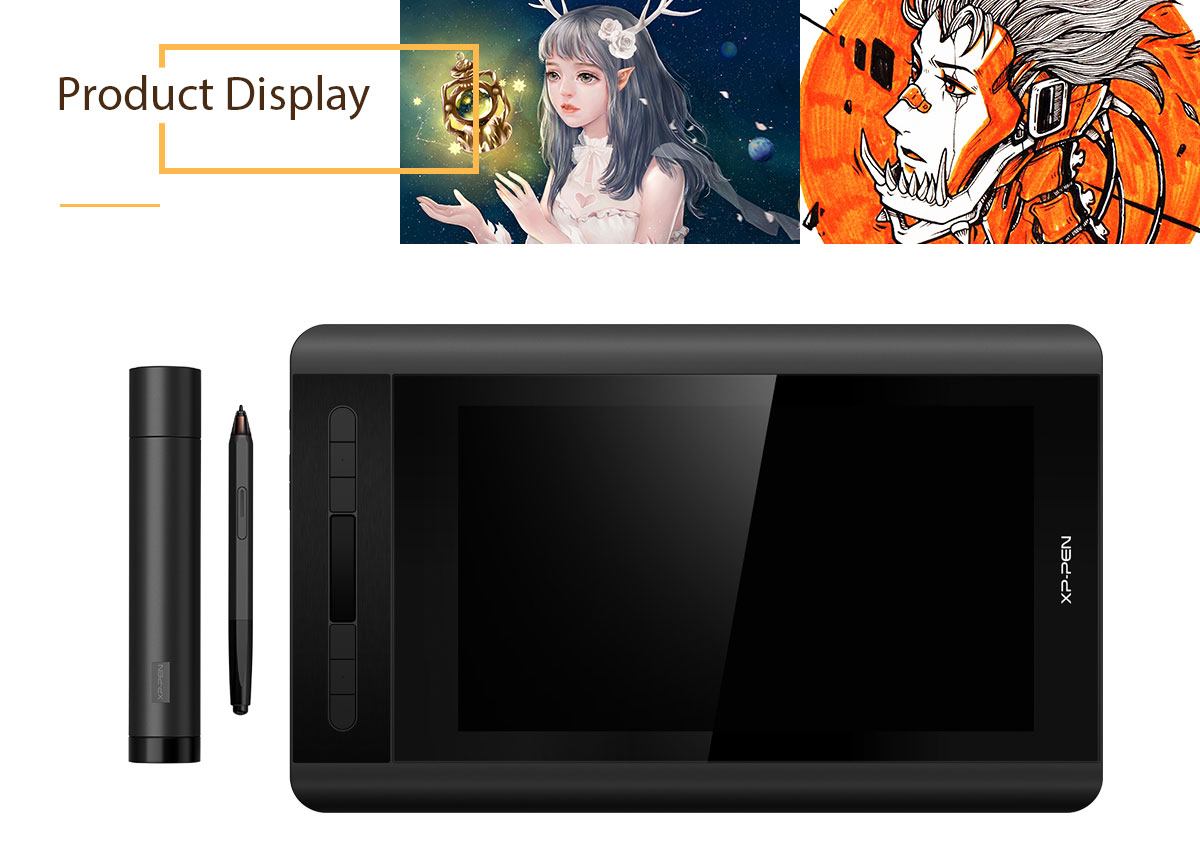 Good Quality, Excellent Price

I wasnít expecting the same quality of input and features as Wacom Cintiq offers. Simply because I still believe that Wacom Cintiq is significantly more expensive due to the final qualityÖ And mostly because I have constant opportunity to check Cintiq at my workplace. Itís smooth, itís responsive, itís polished. But Artist is not really far behind! Pressure control is pretty much the same as Wacom tablets, it feels very smooth and gives proper feedback.
To be honest, I donít feel any drastic downsides to XP-Pen tablet when comparing it to Cintiq. Screen is bright and clear, pen works flawlessly, feedback is great and constantÖ Where are the flaws in this tablet, considering how much cheaper it is?
Worthy purchase?

I think it is. I donít bash Wacom guysÖ I use their products for years and still work on Intuos Pro at work. And there are pretty much no issues with it. Itís top quality stuff. But I also believe that their brand power is getting a little out of hand, and they charge a shit-ton of cash just because they can as a company that is placed and praised as an absolute sovereign of this market. And it surely was Ė About 10 years ago I had a Wacom Graphire tablet and a Pentagram XXL. I literally threw the Pentagram into the trash, where it belonged Ė Wacom had no competition in the past and so it builds an image of The Only Company for you, when you need a graphic tablet.

But the times changed, and more and more companies rise to test the mettle of the old king. If you want a screen graphic tablet with really satisfactory performance but donít want to splurgeÖ XP-Pen Artist12 is a product I can fully recommend. For more than half the price-tag you get a device that is so similar, you hardly will feel a difference in most scenarios.
Conclusion
For the price and what it delivers, it is a very good option to start with this type of interactive Monitor Display Tablet XP-Pen Artist 12HD .

If you hold the tablet or work in your lap this wonít be an issue. And the stand it fantastic so thereís no reason not to use it! This is one of the best tablets you can get for this size .
If you want a portable display tablet then the Artist 12HD is your best choice. Itís lightweight, sturdy, and built to the best specifications you can get from XP-Penís display tablet lineup.
As you can see, this is practically everything that you need to start digital painting on the go. The pen is great and straight lines and curves are very easy to draw on the screen. The pressure sensitivity works well and the overall experience is good. You can definitely work on the go with this tablet. The stand is sturdy and holds the tablet at two different angles, adapting to your needs.
Comments (0) :: Post A Comment! :: Permanent Link

ē 17 August 2018 - XP-Pen Artist 13.3 Review : Portable Drawing Display For Artists & Graphic Designers
Are you looking for a Cintiq digital drawing Pen Tablet review? You may have just gotten lucky, because Cintiq is no longer the only option on the market. The XP-Pen 13.3 is a budget alternative to the Cintiq 13HD , itís a tablet that lets you draw directly on the surface and can also be used as a third monitor.sometimes is perfectly fine to pick a cheaper tablet if you canít afford a Cintiq, because they work well and are enough.
I did get a new pen tablet , the XP-Pen Artist 13.3! I wanted to do a little review of it and give my honest opinion.
The product finally came in the expected date, less than a week, through courier. I was so excited!
This tablet comes in very protective packaging. It is encased in very sturdy foam and boards to keep anything from being bent, broken, and scratched. Color me impressed!
Whatís in the Box?
Comes with the tablet monitor, pen, 3 in 1 USB cable, HDMI to mac adapter cable, pen holder, 8 extra stylus tips , and an artist glove that covers the bottom half of your hand. No drawing softwares bundled with it.Everything included in the price (lower than 300ą, still a deal). And it was truly beautiful.you can get more information from https://www.xp-pen.com/goods/show/id/202.html .
First Impressions
It comes in a regular cardboard carrying box with a handle. which have a minimalist, all-white, Apple vibe with sharp graphics. Basically the box for this product looks like a cardboard carton youíd get your flatscreen TV in.
The XP-Pen 13.3 drawing monitor looks a lot like the Wacom Cintiq 13HD. It has a 13.3″ screen, The design is quite nice and professional, with a black color typical of electronics.
The Techical Details
Weight : 3.3KG (some more with stand and stuff)
Model : Artist13.3 V2
Active Area : 293 x 165mm
Resolution : 1920 x 1080(16:9)
Panel Size : 13.3inch
Pressure Level : 8192Levels
Pen Resolution : 5080LPI
Report Rate : 266PPS
OS Support : Windows 7 or later,
macOS : 10.11 or later
Viewing Angle : 178į
Gamut : 75% (Adobe RGB)
Display Color : 16.7M(8bit)
you can install the newest driver from their website ,The installation was kinda easy and fast. I sticked clumsyly the screen protector over the screen. I tried to make it right but this is same shit as sticking screen protectors on cell phones; it ends messy sometimes, with lots of bubbles. I finally let it be, because It doesnít gives me any issues for work (I maybe try to purchase another screen protector later just for the aesthetic). Please, try to use a ruler or something to stick slowly your screen protector, ok? ok.
The screen protector can be important. I worked years with a glass monitor and I liked it. The colors were clear and sharp. Once you stick the screen protector to your Pen Display , the feel is that everything looks a bit less clear (until you get used to it) BUT the protector allows us to work with less light reflections on it. Also, that screen protector is what gives same feel as working over a Cintiq tablet: some kind of paperlike feel. Iím not used to it but I enjoy it as well. I suggest to use the artist glove on them always, no matter if you use the screen protector or not.
The IPS Screen
Anyone that's used a tablet like this will tell you that the first thing you want to do is check out the pressure sensitivity and screen. To cut a long story short I came to the conclusion that I preferred the matt finish. At times it feels like your drawing on a high quality card and it's very satisfying. The color quality of the Artist 13.3 screen was every bit as vibrant as I was expecting it to be.
The manufacturer claims 16.7 million colors. The human eye can see about 10 million colors, so Iím not even sure how to tell the difference between the extra 6.7 million, but I can say that the color quality was brilliant from the right angles. From some other anglesÖ the colors start to get more saturated than usual, which can really throw off the accuracy of your work.
Pressure sensitivity is a big deal. I mentioned the comparable Wacom earlier, and you can notice the difference in pressure sensitivity. This is very smooth in the transitions between a lot and a little amount of pressure. To show just how intuitive it is I recorded the very first time I drew lines on it. Needless to say I was impressed.
The P03S Stylus : The Magic Tool?
Definitely, for us, the secret weapon of this model is its smallest accessory. If we already described the forge for all your creations, now it would be the turn of the hammer that will give them shape: The P03S Pen.

This will be the tool that will make you feel that it do everything for you. It may be terrible or strange that the monitor does not have buttons to rotate or modify the space of the canvas. This can be solved by configuring these preferences on the buttons of the pen for have all the control.
Its ergonomic design is different to what is customary to see in other brands, not only looks good but feels very comfortable.
But what we find like the most impressive of this tool is the 8192 of pressure sensitivity. This allows you to degrade and make smoother paths almost as if we were drawing on paper.
You can leave the pencil resting on the base vertically or horizontally. This Artist 13.3's stand has a built-in nib extractor and 8 spare nibs inside that you can use to replace it.

Controls and Functionality
The Cintiq 13HD comes with 4 hotkeys, and 1 scrollwheel. The Artist 13.3 only have 6 hotkeys,Drawing on the screen was a pretty standard experience, and thatís a good thing! I didnít really notice any glaring errors or extreme differences in quality.

Before I got carried away with painting I wanted to see how easy it would be to set up the hot keys. You simply open the XP-Pen Artist 13.3's software and chose the ĎPress keys' option. Once you've done this, click on the button you want to set and a new menu will appear. In the new menu you can simply chose the keyboard key you'd like. It really is that easy.

The next thing I wanted to do was to throw myself in at the deep end and rustle up a sketch. I like to draw pirates so it seemed like an obvious choice for the subject matter Ė a quick 10 minute pirate sketch. It's nothing special, but within those 10 minutes I had gone from not knowing the device at all to feeling comfortable drawing on it and using the hot keys. It is incredibly easy to get used to and become comfortable with.
Without further ado I decided to really put the device through its paces and worked on an image from concept to completion. It was every bit as good as the previous XP-Pen I reviewed, but the matt finish of the screen quickly became even more appealing and the hot keys really helped me to fly through processes that would otherwise mean taking my eyes off the screen. Dare I say it; I found it even better than the equivalent Wacom I mentioned previously.
Working on it : Performance
I started drawing over it and I noticed how much well worked on both Clip Studio and Photoshop. It was amazing, so smooth, so steady. The jump from the +2000 pressure levels of my Artist 10S to 8192 pressure levels in my XP-Pen Artist 13.3 pen monitor was showing. I started to think on inking again in Photoshop because the wobbly lines are almost over in XP-Pen, but I enjoy so much inking in Clip Studio so well, Iím gonna stick with Clip Studio for linearts and Photoshop for color.
The screen is large enough, I had to put my toolbars in the middle of the screen to ease the motion in my arm (I have arm and shoulder pain sometimes so I try my best to not force them).
Compatibility
The XP-Pen Artist13.3 Pen Display is compatible with Windows 7, Windows 8, Windows 8.1, Windows 10; Mac OS 10.8 and Mac OS 10.10. or higher. It works with many softwares like CorelDraw, Corel Painter, Photoshop, Adobe Illustrator, Adobe Fireworks, Macromedia Flash, Manga Studio, Stratos3D Max, AutoDesk Maya and ZBrush. However, you should beware because the Huion company did not test out all these softwares properly. Your tablet may work with some versions of the software and not others.
As of now, there is no complete list with the versions that it is compatible or incompatible with. However, XP-Pen has really good customer service and you can always drop them a line with questions and suggestions. (Yes, I tested this out, they responded to my message in a couple days. Customer service was very polite and professional).
Pros
passive pen design doesnít require charging
8192 pressure settings recognized
3-in-1 cable reduces cord clutter
lightweight and small Ė easy to transport
very good resolution
works for left-handed people
shortcut functionality
great build quality
easy to use
affordable
Cons
no tilt functionality
no built-in eraser (though you can set one of the shortcuts for this)
some screen glare
no stand
no multi-touch function
In Conclusion
For $300, this is a pretty solid display tablet. I love it, and I think it's fantastic. Like anything else, it does have its cons, but the majority of the cons are generally able to be remedied. This tablet is more budget friendly than the Cintiq, but still just as good. I highly recommend giving it a shot if you're searching for a new tablet and you have the funds for it.

Thereís not a perfect tablet monitor, but the XP-Pen Artist 13.3 Monitor Tablet itís a very good (and affordable comparing to Cintiq) investment, and itís amazing. I recommend it SO MUCH to work professionally in daily basis, also for your art practice. If you canít afford a Cintiq this is a good option. Something important is that XP-Pen releases driver updates regularly, and they look like they are taking seriously the tablet monitor bussiness.
Comments (0) :: Post A Comment! :: Permanent Link

ē 10 August 2018 - Review: XP-Pen Artist16 Pro Pen Display Drawing Monitor Tablet
XP-Pen Artist 16 Pro is a nice affordable pen display & Cintiq alternative, It supports a 8192 level of pressure sensitivity, and features a nice 15.6 inches HD screen. It supports many display types out of the box. It is a pretty much a product I recommend to anyone looking for an affordable pen display to get started with digital art, or for anyone who wants to an affordable upgrade from a regular graphics tablet.
XP-Pen started out in Japan in 2005, and since then has opened offices in Taiwan; Shenzhen, China; and the U.S. They state their concern with the environment led to them to make their pens battery-free. They were kind enough to send me this tablet to review, so I have had time to test out various art programs on it.

I have owned this graphics tablet for around a week and I now feel that I have enough information and have spent enough time with this tablet to accurately review the product. I will continue to update this review as time goes on...

The product shipped extremely fast and was very well packaged. Upon opening the box, I noticed that it came with quite a few items- two pens, two pen chargers, a pen stand (including multiple nibs), a glove, a screen protector, a screen wipe, an Apple display cable, a normal power cable for the monitor itself, a HDMI cable, and a USB extension cable.

Important specifications

Active Area: 344.16 x 193.59 mm , 15.6 inch diagonal
Resolution: FHD 1920 x 1080 (16:9 ratio)
Display Type: IPS
Pen Type: Recharging
Pen Pressure: 8192
Resolution: 5080 LPI
Expresskeys: 8 hot keys, no eraser
Multi-touch: No
Price: $489.99 Buy from https://www.xp-pen.com/goods/show/id/251.html .

The Screen
XP-Pen Artist 16 ProĎs screen is an IPS panel screen, a type known for having good colors & wide viewing angles. That mean that the colors wonít change much when you view the picture from different angles. Unless you looked at it from a very narrow angle.
The screen size is about 15.6 inches, and has a HD resolution of 1920 X 1080. The screen is made of glass. This means two things, first, if too much light was cast on the screen, then the screen will act as a mirror, making it harder to use, this is easy to fix by placing the monitor on a place where not much amount of light falls on the screen.
You should make sure to check your own room for bright lights if you are considering this tablet, or take into consideration buying an anti-glare screen protector.
Second, it means that the drawing surface will be sleek, this can be good or a bad thing depending on your preferences. If this is the first time you use a graphics tablet or pen display, you may not mind that much.
XP-Pen Artist 16 ProĎs screen features no touch capabilities, so you can only interacts with it using one of the two pens it comes with.
Display Ports
At the back of the screen, you will see all sorts of display ports. Like USB,& HDMI. That means that XP-Pen Artist 16 Pro will work on your computer no matter which display port your computer has. And to make life easier for Mac users, XP-Pen included a Thunderbolt to HDMI adapter for Mac users.
The XP-Pen Artist 16 Pro needs a USB cable for pen input, a video cable such as HDMI to display the screen (or an adapter if your computer has a different port from those three), and a power cable to power the display.
My power cable is the US plug type, but the power cable should be different according to your region.
Since XP-Pen Artist 16 Pro doubles as a computer display, you can use it as a second computer display when you are not drawing with it.
Drawing Capabilities

XP-Pen Artist 16 Pro Pen Dsiaplay tablet supports 8192 level of pressure sensitivity, which is typical of drawing devices nowadays. The big drawing area can make it easier to draw & have control on your lines.
Since there is a glass that separates the pen from the digitizer, a slight misalignment between the pen & the cursor on the screen is inevitable. To solve this problem, you will need to calibrate your XP-Pen Artist 16 Pro to suit the angle you work on. And for that the driver software of XP-Pen Artist 16 Pro supports two kind of calibration, 4-point & 9-point calibration. The difference between the two is the number of points you point on the screen. Bear in mind that eve after the calibration, there can still be some misalignment at the edges of the screen, but that is due to hardware limitation.
When it comes to drawing your strokes, XP-Pen Artist 16 Pro requires a more pressure to actually make the strokes appear on the screen. So if you are the kind who make a lot of light strokes, then you may not be happy with that. And unfortunately, the driver software doesnít give you anyway to adjust the sensitivity of the digitizer. So you pretty much need to get used to drawing with how it comes out.
The eight customizable express keys make using the display apart from the keyboard much easier. The express keys make basic actions, like zooming in and out or changing brush size, much faster, but I still needed the keyboard close by for things like cloning.
Overall, drawing performance is good. The pressure sensitivity works very well. The display is responsive and lines appear instantly as they are drawn. There's no lag.
The Po2s Pen
The P02S pen weighs 17 grams and is comfortable to hold. It doesnít have indentations or a grip, but it has a good balance in the hand. It slides quickly over the glass, since the screen is slick, though not super-slippery.
Using the screen protector slows it down somewhat. Some people like to draw on a glossy surface; others prefer a textured screen such as that on the Cintiq, or a more matte screen protector.
The pen has good tracking, with a bit of parallax due to the thickness of the screen, as does a Cintiq tablet. I did not notice any jitter.
The pen features an auto-sleep function to save battery life. It takes 1 to 2 hours to charge, which will last a couple of weeks, up to 130 hours depending on use. Because two pens are included, you can keep one charged and switch to it when needed. The pen weighs 17 grams.
Thereís a blue light indicator to signal when the battery is low. The pen is rechargeable, but the battery that comes in it is not replaceable.
While charging, the pen light will be red until fully charged.
The two buttons on the pen are programmable in the driver. You can toggle it with just one click and one hand, since the button is within reach of your drawing handís fingers, so you could program one button to switch to the eraser, which could save you time.
Unlike the Wacom Pro pen, this pen does not have an eraser on the back end. The buttons can only be customized for mouse functions, such as right-click, as well as eraser.
Build and Design
The screen is made of an anti-scratch glass which seems to live up to its name as I see no scratches whatsoever from the few days I spend drawing on it.
Thankfully the buttons are not placed on the front of the monitor, and are instead on the right side . This means that they do not get in the way when drawing.
The buttons are on the right side . They are not too hard to reach because the stand lifts the tablet above the table; still, it would be nice if they were in a more convenient place.
The monitor build quality as a whole isnít as premium as Wacomís, but itís solid and stable. Though there are volume controls, there are no speakers; they are for speaker support.
The device is made of rugged textured plastic with rubber on the base and bracket.
Adjustable Stand
The stand can be adjusted up and down to any angle but does not rotate (the Cintiq 22ís metal stand both rotates and goes up and down) Itís a good idea to replace the stand with a mounting arm .
The monitor sits on the stand above the table, making the buttons, which are on the right and along the bottom, easy to access. The ports for the cables are on the back, and a little hard to get to because of the stand. The cables can also get mixed up in the stand.
The stand is removeable and VESA-compatible; you can replace it with a mounting arm.
Compatibility
The Artist 16 Pro Drawing Monitor supports Windows 7 or later and Mac Os X 10.8 or later, and is compatible with popular creative software, such as Adobe Photoshop, Corel Painter, Clip Studio Paint, SAI, ZBrush, MediBang Paint and Toon Boom Harmony.
PROS
+ PRICE: Compared to Wacom products, this Artist16 Pro display tablet at the time of this review is only $489.99, compared to $1,599.95 of a Wacom the same size. I honestly do not see why anyone would spend the money on a Wacom with the XP-PEN being such high quality
+ IMAGE QUALITY: The image quality is absolutely stunning- I was blown away by just how accurate the colors are and how brilliant the screen is. I have heard people complaining about non-Wacom brand tablets cause eye strain and should have breaks taken after an hour- I can say I have drawn for seven straight hours on this tablet, and I have not had a single problem.
+ PEN (x2): It is absolutely great that this product comes with two pens- one can be charging while you are using the other, or if you are like me and misplace the pen all of the time, this is a great alternative. The pen is built extremely similar to the Wacom Intuos Pen and Touch pen, which was my previous favorite tablet- it was very easy to get used to this pen. Also, I will mention this later, but there are two buttons on the lower part of the pen that you can set to be an eraser, right-click, etc. I find this is incredibly helpful because I do not have to keep going over and clicking the eraser.
+ SIZE: 15.6" screen makes this product extremely nice, like a large canvas just waiting to be drawn on.
+ ACCESSORIES: This product comes with quite a few extra accessories- a glove, a screen protector, a screen wipe, extra nibs- all things that the company does not have to include, but they do. I think that really speaks highly of XP-PEN when they could be charging for these items
+ CORDS: Every cord that you can imagine comes with this tablet, which is great. I run a Windows 8.1 on an HP Pavilion so I did not have to worry about compatibility, but all of the options that they provide in cords make this product extremely versatile. I have noticed some people saying that the cords did not match- I did not have this problem. All of the cords that I received were black and seemed high quality.
+ COMPATIBILITY: I have confirmed that this works with Paint Tool Sai, Photoshop CS5/6, Illustrator, Open Canvas, Comic Studio, ZBrush, Fire Alpaca, and Manga Studio Pro.
+ ASSEMBLY: Honestly, set-up took about five minutes. You literally just have to plug in the correct cables and you are all set. The drivers install very quickly and everything went very smoothly.
+ SHIPPING: The shipping on this product was four days without Prime, directly from Hong Kong- which is absolutely amazing when you think about it
+ CUSTOMER SUPPORT: Not only is the staff friendly, they really care about their customers. As I stated before, they do not need to include all of the extras that they do, such as extra pens or screen protectors. Also, from reading many previous reviews, they really do listen to their customer base. A large complaint while I was reading reviews was that the cords do not match- one was blue while the others were black. When I received my cords, this issue was fixed. Another problem users had was with the screen protector- it was incredibly hard to attach it without multiple air bubbles. Now, they have updated the screen protector to one that simply attaches at lays over your screen. Just the fact that they listen to their customers and actually spend the time going through the reviews speaks wonders about this company.
+ NO HEAT: I have used this for up to seven hours straight, and noticed no excessive heat. It was a little bit warm, but not ďfreshly microwaved foodĒ warm, more like ďslightly warmer that its surroundings but not even close to how warm my laptop isĒ warm.
+ VERY HIGH DEFINITION: When this says HD, it really means HD- this monitor is stunningly beautiful, not only for artwork, but doubles as a second monitor for gaming, internet browsing, movies, and any other use you could think of.
+ CALIBRATION: This product required absolutely no calibration, color or touch, out of the box. Although that is not a big deal, it is a little extra something that made the entire experience nice. Just for this review, I did re-calibrate my screen- this was a very quick and easy process.
+ RESPONSIVE: This product has increased my productivity so extremely much; it is almost amazing to me. Previously favoring my Wacom Intuos, there was always this disconnection between drawing on the tablet and it appearing on the screen- this always caused me to have to re-draw lines over, and over, and over, until they were just right. With this tablet, that takes all of the guesswork right out of it- where you draw, there will be a line. It's almost stunning how much more I get accomplished in a session.
+ SMALL PARALLAX: You do notice some parallax while drawing, but after drawing on a tablet for so long, it really does not bother me personally- I rarely noticed it at all.
+ DRIVERS: It is easiest just to download the most current drivers directly from their website, so getting the drivers from the Internet, while being my only option, went incredibly smoothly
+ LIGHT-WEIGHT: I was honestly surprised at how light this monitor was- I was actually expecting something a lot heaver. I really enjoy how this tablet is light but does not feel flimsy in the least.
+ THE STAND: I have noticed that quite a few people have commented that the stand is flimsy/awkward. I, personally, have not had this experience. I trust the stand enough to put full pressure on it and I do not worry that it will break.

CONS
- NO PEN ERASER: While there is no direct pen eraser similar to the Wacom Intuos, it does have a button on the pen that you can set to the eraser- I almost find this easier that having to flip the pen upside down and use it to erase.
- Some parallax: There is some spacing between the pen tip and where the cursor appears.
- GLOSSY SCREEN: This is probably my least favorite part of this tablet- the screen is extremely glossy. In a brightly lit room, the glare on this is pretty bad. I work in a room that is only lit by Christmas string lights, so I do not have a problem with this, but when I do turn on the overhead light, it does cause some issues.
The Verdict

Overall, I am so extremely satisfied with this Artist 16 Pro pen monitor - within a few short days; it has become my most favorite drawing device. I would honestly recommend this to any person looking to buy a tablet but not wanting to spend an ungodly amount of money. This product has the quality of a champion, and I look forward to being a customer of this company for many years to come. I was so afraid at first, because it is $489.99 , and XP-PEN is not as famous as Wacom- everyone knows Wacom. Looking back, I realize how foolish I was to wait so long on this product. If you have to take a chance on something, I would definitely take a chance on this tablet.
Comments (0) :: Post A Comment! :: Permanent Link

ē 22 June 2018 - XP-Pen Artist 22E Pro Pen Tablet Display Review : A top choice for graphic designer and illustrator
Visual drawing pads like the Artist 22E Pro creative pen display have, with various levels of success, done away with many downsides of traditional drawing pads.
Itís a relief to skip the process of retraining your hand-eye coordination when you get a new tablet. A pen display has a screen where can see your work and draw directly on it, instead of having to look at a separate computer screen like you do with traditional pen tablets.
It feels more like drawing or painting ďfor real.Ē Minus the joys of sharpening, stray brush hairs, eraser fuzz, and grooves in the paper...This makes pen display tablets like the 22E Pro ideal if youíre eager to get started without that disconnect and learning curve.
Note that the 22E Pro must be plugged into a computer to work. If you need a standalone pen display you should look at the Artist Companion instead.
Before you choose a pen display, youíll also want to think about these factors:
What You Will Use It For
Do you need powerful software? You will need a decent computer to run it, and a pen display thatís compatible and strong enough. Budget options arenít always compatible with top software.
Your Budget
Artist pads are known for being pricey. The quality merits the price, but it can be out of many artistsí financial reach.
There are products that cut the price tag by sacrificing quality, and there are greater Artists with an even higher price. The 22E Pro is cheaper than the typical Artist, but still delivers.
Where You Will Use It
Are you looking for something to use on train rides, or bring to work or school?
Weigh your needs for power and drawing space against the portability and price to find your best fit.
Build Quality
A lighter, cheaper tablet often means a weaker build thatís more prone to damage, and less powerful machinery. However, reliable brands can balance this well.
Somewhere between minimalism and versatility, youíll find the sweet spot for your digital drawing needs.
XP-Pen a professional and reliable supplier of graphics tablets,pen display monitors,light pads,stylus pens and more digital graphical products. The new XP-Pen Artist 22E Pro sits somewhere in the middle ground. 21.5-inches graphics tablet that Ė like its Artist brothers Ė has an integrated display so you donít have to keep one eye on a separate computer monitor. Itís about as close to real drawing you can get without getting out a pen and paper. the XP-Pen Artist 22E Pro HD Ips Digital Graphics Drawing Tablet Monitor provides easy access to shortcuts allowing comfortable experience, making it the perfect companion for your notebook, desktop or workstation.
Dimension: 517 x 321 x 30mm
Display Area: 476.64 x 268.11mm
Display Resolution: 1920x1080 pixels
Adobe Color Gamut Coverage: 77%-82%
Pressure Levels: 8192
Resolution: 5080 LPI
Report Rate: 266 reports per second
Questa è sicuramente la nostra tavoletta professionale di digitalizzazione consigliata.
The Artist 22E Pro driver supports 4k displays, now you can enjoy every sharp detail. The custom-designed anti-reflective coating reduces glare by 56 percent. Your screen will continue to look clear and beautiful, even if it's bright out. now XP-Pen Artist 22E Pro is available in Amazon Australia Ė for $769.99 https://www.amazon.com.au/XP-Pen-Artist-Graphics-Pressure-Sensitivity/dp/B07DWGWDNQ .
The Interactive HD Screen
The Interactive display is 21.5 inches and itís amazing! The resolution is great, the colors on this are incredible and when I see my labels or other design work it looks like a final color print. Photos and illustrations look great. The anti-glare coating is really good.
The main attraction on the Artist 22E Pro is easily the display panel. The screen measures 13.3 inches (338mm) with a resolution of 1,920 x 1,080 for full HD viewing at a smidge over 165 pixels per inch. Wrangling 77~82 percent of Adobe's RGB gamut, the panel sorts 16.7 million colors and offers 250 cd/m2 of brightness. Since it is an IPS screen, the viewing angle is nearly 180 degrees (178 to be exact) so colors are displayed accurately even when viewed from the side. "Semi-gloss" probably describes the surface best as it provides just the right amount of sheen without tossing back too many reflections from outside lighting. Viewing angles are also quite stellar . The screen was beautifully lit and I spotted no dead or damaged pixels in the display.
The drawing surface has a nice texture that simulates drawing on paper. Itís smooth, but not slick, and has a slightly matte finish that has the added benefit of reducing glare, reflections and fingerprints. Pen strokes are fluid without any lag, even at the edges of the screen. The pressure varies smoothly and there is no noticeable parallax (the distortion effect that makes it feel like the pen tip is offset from the image due to the thickness of the glass).
I calibrate it with a Spyder2 rather doing it by eye since it gives you a more neutral result. The default color of the Artist 22E Pro is pretty good. I do this since I design mostly for print and consistent color is very important. Overall a superb quality display, way better than my older Artist 22HD.
In fact, the lack of touch-sensitivity is the one major disappointment I have with this entry from XP-Pen. but the 22E Pro was introduced as a screen only. While this was perhaps to keep its price at that magic $769.99 number, I think it hurts the device overall: Weíve gotten so trained at this point to interact with our screens that to limit it to just stylus and button input makes the 22E Pro seem crippled in a way. I canít tell you how many times I tried to pinch-to-zoom my canvas or tap on a window before I realized, sadly, that it just wouldnít work.
If you get the more expensive ďtouchĒ version youíll be able to use the multi-touch features of the tablet for easier shortcut access, which was pretty neat if youíre the type of person who finds themselves using shortcuts a lot.
There were some reviews online that stated that the screen got a bit hot, but in my experience it doesn't have the problem of overheating, so you can safely use it.
A simple wipe-down every few days should be enough to keep your stand nice and clean.
The Stylus
XP-Penís powerful new Pro Pen with 8192 levels of pressure sensitivity, tilt recognition, and a more comfortable, ergonomic design provides precise control and a better feel than ever. The new Pro Pen comes in a compact carrying case that includes storage for the extra nibs and color rings that help you easily personalize and identify your pen.
Like with their other high-end models, the stylus that comes with the XP-Pen Artist 22E Pro is fantastic. The rubberized grip of the pen along with its size gives the stylus a great feeling when held and feels even better when drawing on the screen.
The stylus actually felt like a regular pen in my hand, which I really liked. It doesnít exactly feel like pencil to paper, but the great texture on the tabletís screen and the ease with which you can control the pen really makes the XP-Pen Artist 22E Pro to closest thing to the real deal when creating digital artwork.
It also came with 8 extra nibs and some color rings to personalize your stylus, if thatís something you wish to do. They were little additions, but itís the small things that XP-Pen does that really makes you feel valued as a customer.
Besides the usual pen holder, the Artist also comes with a surprisingly nice pen case to carry the Pro Pen and other included goodies ó colored rings, nib extraction tool and and nine spare nibs.
Set Up
the XP-Pen Artist 22E Pro isnít truly portable. Itís a display and digitiser interface, not a computer in itself, and it doesnít have an internal battery.
It needs to be hooked up to a laptop or desktop, and needs to be plugged-in. The XP-Pen Artist 22E Pro uses a clever tri-cable to make this as simple as possible. Thereís a proprietary socket on the side of the tablet, in which a cable plugs that splits off into three wires Ė one to hook up to an HDMI port, another to a USB and a third to the power.
Set up is easy, plug the adapter into the wall, plug the HDMI and USB to your computer and download the latest driver from XP-Pen.com. I didnít use the included CD, but itís nice of XP-Pen to include it though.
Install the drivers and you are ready to go (same on Windows and Mac). XP-Penís drivers are solid and I havenít got any problems, again I donít really update the system to often. I use Windows 7 and Mac OS Mavericks, I prefer a stable computer than a new system with tons of problems.
The tabletís control panel is very customizable. You can customize the keys to your frequently used commands, circular command for even more shortcuts, adjust the pressure of the pen tip and the eraser. Iím an old school guy and I use the keyboard more than the Express keys and I leave the defaults alone unless I really need something different. I like the fact that you can add your apps and create customs sets for each of them.
Calibrating the pen is the most important thing to do in the set up process, you want to have the cursor as close as possible to the pen point. This is my third Artist and I have to say XP-Pen is improving the accuracy with each generation, the calibration is near perfect on this one!
Experience of using the Artist 22E Pro
If you havenít use a Artist, well it will be a revelation, everything you do, you do it faster and better (or at least it feels faster). The drawing surface is nice and has a little grip to it, like a very smooth paper. One thing I like about this Artist is that you donít use your shoulder-arm movement to draw and you donít get as tired as with a large Artist. Quick sketching is particularly nice on this one. This Artist is precise, very, very precise, the resolution of the screen and the near perfect calibration of the cursor makes it a great tool for detailed drawing or graphic design.
Using it with Photoshop
Using the tablet with Photoshop is great, selections and masking are fast and accurate, you really use those 8192 levels of pressure sensitivity and tilt recognition here. Also the colors are great, drivers work great with the latest version of PS and itís the best way to use Photoshop.
Using it with illustrator
Illustrator is my main tool for 80% of my everyday work, some people think that a Artist is not a tool for graphic design but I disagree. Using illustrator on the Artist is faster and way more accurate than the mouse or a regular tablet, itís so good to be able to hit those anchor points every time and move them around so precisely. I love it and I totally recommend it for graphic designers or vector illustrators. In this case the pressure sensitivity is not as crucial as the precision, good pen calibration is a must. Colors look great and the sharpness of type and graphic elements is fantastic.
With Painter
I love Painter, itís the best tool for digital painting and Iíve been using it for a long time. I love Painterís brushes, simply put thereís nothing like it, I use Painter with Photoshop all the time, Photoshopís editing and color tools are better but Painterís brushes and simulation of real media are incredible. In Painter you take advantage of the pressure sensitivity of the Artist, also the pen tilt works great with some brushes and wet. Painter and a Artist are probably the best set of tools for illustration or digital painting.
Pros:
+ Bigger Drawing Area: If you like drawing big stuff and donít like zooming, this is your kind of tablet. Thereís more room for panels and references.
+ Really good color rendering: good for professional design, photo or illustration work
+ Great resolution: accurate precision and your designs or illustrations look so good
+ Anti-glare: I hate Appleís shinny screens this one is so much better
+ 8192 pressure levels: You really use them on Painter and Photoshop and your tablet lasts more since you use a lighter touch
+ Great customization: 16 express keys, rocker ring, radial menu and custom keys for each program
+ Durable: Iíve been using it my Artist 22E Pro for a year and it looks like new, itís build to last
+ Best tool around: XP-Pen is still the best when it comes to monitor-tablets
+ Great Pen with replacement nibs: Best pen for digital art, replacement nibs for a long time and a super cool case
+ Works great with a lot of digital software
+ Solid drivers for Win and Mac
+ Great design: is so good looking and works incredible well
+ Cool: this tablet looks cool and using a Artist is cool if you are a digital artist
Cons:
+ Not Portable: This is a full-size tablet and not meant for use on the go.
+ lack of Multi-Touch function
+ little expensive
+ No wireless option
ConclusionÖ
The long-awaited XP-Pen Artist 22E Pro Interactive Pen Display Tablet is really everything youíd want out of a tablet as a professional.Artist 22E Pro has met or exceeded our expectations in nearly every way.
The large display spoils you with the amount of room you have to draw with and the high 1920 x 1080p resolution allows you to spot even the tiniest mistakes without having to look up at the monitor.
Most importantly, the pen-on-screen functionality performs beautifully. Drawing directly on the screen feels completely natural, compared to the extra eye-hand coordination that a regular graphics tablet requires. The stylus also doesnít disappoint with its fantastic rubberized grip and balanced size thatíll make you momentarily think youíre trying to use a regular pen on a tablet display.
For beginners and casual users, the price tag of the Artist may be a barrier, but serious artists and creative professionals will immediately recognize the benefits in both workflow and productivity. the XP-Pen Artist 22E Pro is a great buy for an artist looking to upgrade and become a pro or a company looking to invest in a product thatíll make their workers more efficient.
All in all, highly recommended.
Comments (0) :: Post A Comment! :: Permanent Link

ē 11 May 2018 - XP-Pen Star 05 Graphics Tablet Drawing perfect for beginner artists Australia
The XP-Pen Star 05 is the best drawing tablet for beginners. The 05 works on Windows and macOS with most popular art programs, and it offers the most precision and control of any tablet under $100. The Star 05ís pen and tablet buttons are among the most customizableóalong with the other XP-Pen tablets we testedóthanks to excellent software.
The XP-Pen Star 05 is a beautiful device. It is a sleek off-black, and very smooth. The beveled edges are a nice touch. Itís overall design is very minimalist, which is something I personally enjoy. It doesnít have any parts that stand out too much; nothing looks out of place. This device has a subtle structure and overall, it is just so good looking.
In regards to size, the Star05 is 11.7 x 7 x 0.4 inches. With an Active Area of 8 x 5 inches, it is pretty large- which in this case is a good thing! While it isnít the biggest tablet, itís not too small; nearly perfect in size actually. My only complaint here is that I wish the active area was slightly larger.
The Stylus is pretty basic; nothing particularly stands out other than the lack of batteries, which is great. Sadly, it also lacks the eraser end; something I do miss. Overall, the pen is pretty decent as it looks good and the writing aspect of it is fantastic.
Function-

InstallationĖ Installationís pretty easy. Plug in the device, install the drivers and it is ready. The only problem is one in which pretty much all tablets have: You have to delete other tablet drivers, though itís relatively easy to do. So in short, the installation is simple and quick.
Drivers can be obtained through the provided disk or XP-Pen.com. It should be noted that though the Drivers for the Star05 are currently not working, you can still use the device with the Star04 driver.
Actual drawingĖ The first thing I noticed when picking up this beautiful device is that it feels a lot like a drawing pad. This is a huge plus for me. Most Graphic tablets feel fragile, or otherwise odd when holding. This one, I just grab and hold like I would a drawing pad; it feels really natural and comfortable.
When it comes to drawing, the device is just as exceptional. The setup is easy; you can adjust pressure by going into the settings menu. The pressure feels pretty dang good, which is not something I say about the other tablets I have used. Many tablets are either far too sensitive or not nearly sensitive enough. The Star05 hit the balance perfectly. Beyond the pressure, the tablets drawing is very smooth. You donít have lag or latency while drawing, even during long, continuous strokes.
When drawing, I noticed that I did not feel disconnected from the actual drawing. Iím not sure what it is about the tablet, but it feels very nice to 05 on; much more natural than your average tablet.
Thanks to the size, you have plenty of room to put your hands on the tablet. In my experience, it is far more comfortable to use than other tablets. On top of that, it is solidly built; it doesnít feel like it will break if you hold it and it feels very good in your hands, somewhat reminiscent of a drawing notepad.
You donít have to worry about batteries because you only need to plug it in and charge it via USB. You can actually do this while drawing, allowing you to go back to the sweet wireless capability. The lack of batteries is fantastic. Besides looking better, it also makes the tablet feel better.
The XP-Pen Star05 also has six touch buttons; the best of which is the undo button. There are also buttons for Brush+, Brush-, Switch, Pen-Walker and Grab. These shortcuts are fantastic and help speed up productivity by quite a bit.
Overall, XP-Penís new tablet is just fantastic to use. It feels so smooth and the sense of connection to the actual drawing is wonderful. There is not much to improve upon for this device; the only thing missing is the eraser on the stylus.
Awesome part about this Graphics Tablet is the fact itís WIRELESS! Of course you do have to charge it (Which takes about 2 hours.) but once itís charged via USB you unplug it and it operates completely wirelessly. Itís supposed to last about 14 hours but weíve not tested that fully quite yet, stay tuned, After setting it up you can easily change it for Left Handed uses, which my sis is a lefty herself (Youíre okay with me saying youíre a lefty, right sis?) so I know it does well for left handed artists.

With the tabletís 2048 pressure levels this tablet can do everything the XP-Pen can and more, while being way cheaper then any comparable XP-Pen product. Sis has tested the pen out on all her art programs, which are pretty much the norm in art lately, such as Krita, Paint Tool Sai, even Photoshop. So yeah itís doing her great and I think she loves it, as well as her new and pretty powerful laptop computer.
Conclusion-

The Star05 is XP-Penís most popular and least expensive entry-level tablet, perfect for beginner digital artists looking for a reliable graphics tablet that will last for years. And with the included Art Rage software, the Star 05 is an exceptional value. With a 8-by-5-inch active area (the area you can draw on), the XP-Pen Star 05 is a small graphics tablet that you can use on your desk or throw in a backpack with your laptop and the lightweight pen to create artwork anywhere. The Star 05 connects via USB so you can draw, paint, or edit photos and digital art.
After having spent a good amount of time with this product, I can easily say that this is the best drawing tablet I have used. The drawing feels fantastic, it looks great and works well with the programs I tested it with. My only issue with it is the lack of an eraser, though that is in no way a deal breaker for this outstanding device.
If you are in the market for a wonderful, up-to-date drawing tablet, you canít go wrong with XP-Pens Star05 . You heard it here first this Tablet is a success so far and is still only $99.99 on https://www.amazon.com.au/XP-Pen-Star05-Wireless-Graphics-Battery-free/dp/B01MAZ5FDL .
Comments (0) :: Post A Comment! :: Permanent Link

ē 25 April 2018 - Best Drawing Monitor Tablet XP-Pen Artist 22E for artists
The Artist 22E is an update of the XP-Pen Artist 22. The main obvious change is the addition of the Express Keys. The 22 had no Express Keys. (Those are buttons on the outside of the monitor, or sometimes on-screen keys, that can be programmed with software commands). The Artist 22E also uses A+ LED, which has better color quality than the 22.
The XP-Pen Artist 22E has two sets of keys, eight on each side, making life equally convenient for lefties, righties, and the ambidextrous. They mirror each other, so there are a total of 8 programmable keys, not 16. These are all on the outside. They are slightly raised.
The cords now get tucked vertically in the back. On the XP-Pen Artist 22 Graphic Monitor Tablet they were in a row under the stand. They are now easier to reach. This version does not have speakers. (Installing it, though, may alter the speaker settings on your computerĖit did on my MacĖso you may need to go and reset them to continue getting sound from your computer).
Since XP-Pen has included an HDMI to Mini Display Port adapter, you donít need to buy anything additional to use it with a Mac.
To install the driver, you have to uninstall all other tablet drivers I had zero problems installing the driver on my Mac. On Windows, the tablet icon that you click to open the driver settings, didnít appear, but I opened the driver settings in the folder.
If youíve had other tablet drivers on your computer, youíre going to have to uninstall them and all remnants of themĖthis can be tricky. XP-Pen has a troubleshooting page for driver issues.
The driver lets you program the Express Keys, adjust your pressure sensitivity, test it by drawing with four colors, calibrate the touch points (4 or 9 points), and rotate the image on the screen in 90-degree increments.
It came well-packaged, not fancily, but safely. The accessories are all individually wrapped and put in one box. The box has a handy handle.
Portability
At around 17 lbs. including the stand and power supply, this (or any) large tablet monitor is not very portable. The handle on the box helps. The attached stand folds up. Itís not terribly heavy to pick up, though I would not want to walk around with it for long. The power brick is not that big.
For Lefties
The right- and left-hand columns of Express Keys make this a great choice for lefties.
Screen
The XP-Penís HD screen is bright . The XP-Pen screen is smoother, but isnít too slippery. Itís fun to draw on. The screen doesnít get that dark even with brightness turned all the way down. Turning it up increases color intensity.
The screen has been measured at 250 nits .
The pen squeaks a little on the screen once in a while but not often, and that should go away after a while. There were no dead pixels. There was a little dust on the outside of the monitor.
Screen protector
The screen protector had some bubbles that were difficult to get rid of. I also just preferred the feeling of the pen on the screen, so after trying the screen protector I removed it.
Pen
The pen needs to be charged via USB. A full charge takes about an hour and a half, but 30 minutes is enough to work for quite a while. The company says the pen can go up to 130 hours on one full charge. It has red and blue indicator lights showing when itís charging or low.
The pen has no indentation to grip, but itís comfortable to hold, and a good weight at 17gĖa combination of light enough to not get tired, but giving some balance. The barrel has two buttons. They are easily reachable.
The default settings are right-click and erase, but you can change that in the driver settings. The pen does not have an eraser end. The buttons cannot be customized to keyboard shortcuts, but only to eraser and things your mouse does (right-click, etc.).
Art Software
Mac: I tested on Mac El Capitan: Photoshop, Illustrator, Manga Studio, Sketchbook, and the free programs Gimp, Inkscape, Paint Too Sai, Sculptris, and Krita. The pressure sensitivity worked great in all of them (I am not that familiar with Sculptris, a free 3d program, so I was not sure what to expect but the pressure did make a difference).
As expected, the pressure sensitivity doesnít work in Illustrator; so far, Wacom Cintiqs and Intuos Pros have the monopoly on that. The pressure also, as expected, doesnít work in the Inkscape calligraphy brush, since Inkscape is similar to Illustrator. You can still use the tablet in those programs, without pressure. Pressure sensitivity worked in vector layers in Manga Studio Pro, so you can draw in vector with this.
Windows: On Windows 10 I tested Photoshop, Gimp, and Sketchbook, and got the same resultsĖworks great.
Controls
There are basic controls on the bottom right. There are no speakers in the monitor, and when you attach it, you may have to change speaker settings to get sound in your computer as it may change the settings (this did happen and itís on the XP-pen.com ). The driver settings let you test and adjust pen pressure, calibrate the screen to the pen, and set up the Express Keys.
On the bottom there are controls to adjust brightness, bring up the menu that allows some color adjustments, and the power on/off.
Out of the box, the Express Keys are on default settings that work in all programs. You can reprogram them to your favorite keyboard shortcuts using the driver settings. The penís two buttons are programmable as well, to mouse commands such as right and left-click, and eraser.
Drawing on the XP-Pen Artist 22E ( https://www.amazon.com.au/XP-Pen-Artist22E-22-Inch-Display-Graphic/dp/B01M9EURM1 )
Hereís a pen test showing pressing down harder and softer in Photoshop CC. Iím working on some more video.
Me drawing curlicues on the XP-Pen Artist 22E. You can see the pressure sensitivity at work.
Have to say I really enjoyed the XP-Pen Artist 22E for drawing. The lines are fluid, the pen sensitive. I adjusted it to a bit higher in pressure as itís very sensitive at the lower areas. The driver, which Ugee and XP-Pen developed together, gives a springiness to drawing. XP-Pen (the company) also used to work with UC-Logic (the company), but no longer does.
Tip: On a Windows 10 computer, some programs, including Photoshop and Sketchbook, require ďsupports digital inkĒ to be ON in your PC tablet settings in order to get pressure sensitivity.
In Photoshop, remember to have Brush Shape Dynamics turned on.
There is a little parallax because of the glass. No jitter whether drawing forward, back, or faster I didnít experience any hover issues.
The Verdict
I canít find much to complain about. It works well and is great to draw on. This is a good professional or starter pen tablet monitor. It doesnít have every feature of the Cintiq, so the decision should come down to how much you need those additional features. Customizable keys increase efficiency, but you can draw without using them at all if you prefer, or just use some.
This XP-Pen Artist 22E Drawing pen Tablet review is a thumbís up. The color is bright and vivid, and it gets most of the Adobe RGB. This is a great tablet if you want a large, responsive drawing surface to create digital art.
Comments (0) :: Post A Comment! :: Permanent Link

Page 1 of 1
Last Page | Next Page